News
Trump Reveals Plan to Sue CNN – Lists Off Demands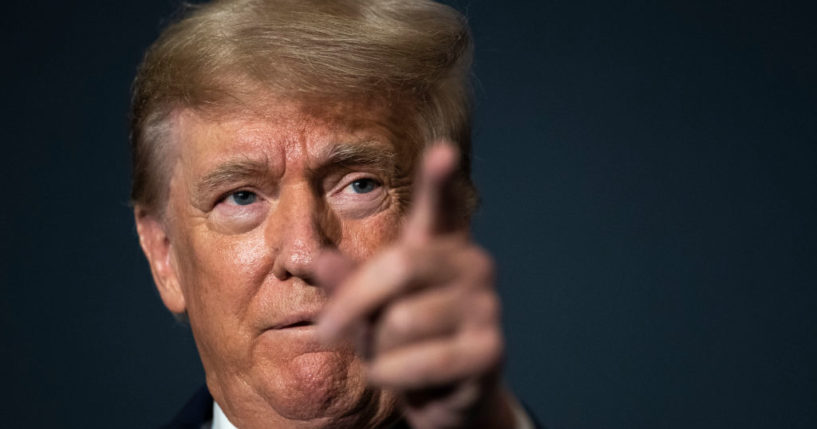 Former President Donald Trump is planning to slap CNN with a lawsuit over its coverage of him ranging from the 2016 election to his unfounded claims that the 2020 election was stolen.
In a statement on Wednesday, Trump said, "I have notified CNN of my intent to file a lawsuit over their repeated defamatory statements against me."
"I will also be commencing actions against other media outlets who have defamed me and defrauded the public regarding the overwhelming evidence of fraud throughout the 2020 Election," he continued.
Advertisement - story continues below
His statement did not share specifically what other outlets could expect a lawsuit.
Finally, the former president added, "I will never stop fighting for the truth and for the future of our Country!"
🚨JUST IN — Trump Statement: "I have notified CNN of my intent to file a lawsuit…" pic.twitter.com/taP9aTIaCy

— HeadlineHunter! 🚨 Alerts (@headlinehunter_) July 27, 2022
In a letter dated July 21, 2022, to CNN Chief Executive Officer Chris Licht, Trump's attorney James Trusty wrote, "CNN must publish a full and fair correction, apology, or retraction, in the same editions or corresponding issues of the website publication in which the aforementioned articles, transcripts, or broadcasts appeared and in as conspicuous a place and type as said original article, transcript or broadcast within ten (10) days from the date of service of this notice."
Advertisement - story continues below
"Failure to publish such a correction, apology, or retraction will result in the filing of a lawsuit and damages being sought against you, CNN," Trusty warned.
The letter took issue with CNN's coverage of the 2016 election, Trump's claims about the 2020 election, and a wide range of other issues.
"CNN repeatedly allowed for assertions that President Trump was illegitimately elected to go largely unchallenged, including statements made by Hillary Clinton, Kamala Harris, Joe Biden, Jimmy Carter, Jerry Nadler, John Lewis, Dianne Feinstein, Marcia Fudge, and Debbie Wasserman Schultz," the letter stated.
It also pointed out to the network's "rush to label President Trump a liar."
"Webster's Dictionary defines a 'lie' as an assertion of something known or believed by the speaker to be untrue with intent to deceive. The definition, then, is not limited to simply being wrong about an assertion; it instead requires the speaker to know he or she is speaking falsely and to specifically harbor an intent to mislead," Trusty wrote.
Advertisement - story continues below
He asserted, "In this instance, President Trump's comments are not lies: He subjectively believes
that the results of the 2020 presidential election turned on fraudulent voting activity in several key states."
Trump has repeatedly claimed that the election was stolen through widespread fraud. However, several recounts and legal challenges have failed to substantiate his allegations or alter the results of the election.
"CNN is estimated to have used the 'Big Lie' phrase or to characterize President Trump as lying roughly 7,700 times during broadcasted television shows and repeats of those shows. These defamatory comments have continued even after the new CEO of CNN apparently urged production teams to stop," the letter stated.
Finally, the letter demands that CNN "immediately take down the false and defamatory publication" and "immediately issue a full and fair retraction of the statements identified herein in as conspicuous a manner as they were originally published."
Advertisement - story continues below
It also demanded that the network "immediately cease and desist from its continued use of
'Big Lie' and 'lying' when describing President Trump's subjective belief regarding the
the integrity of the 2020 election."
Truth and Accuracy
We are committed to truth and accuracy in all of our journalism. Read our editorial standards.
Comment Down Below
Conversation