News
Trump Tears Into 1/6 Committee's Request: A 'Partisan Shame and Waste of Taxpayer Dollars'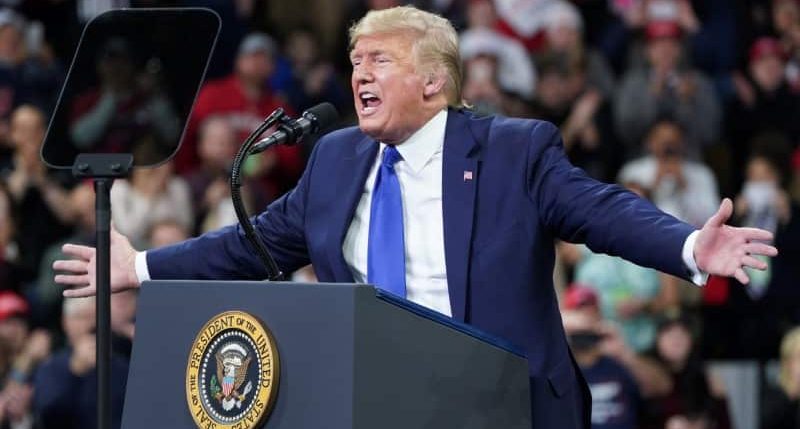 Former President Donald Trump is slamming a request by the Jan. 6 select committee for documents from the Trump White House.
In a statement on Wednesday, the former president accused the committee of being "a partisan shame and waste of taxpayer dollars with a request that's timed to distract Americans."
He continued, "Unfortunately, this partisan exercise is being performed at the expense of long-standing legal principles of privilege. Executive privilege will be defended, not just on behalf of my Administration and the Patriots who worked beside me, but on behalf of the Office of the President of the United States and the future of our Nation."
Advertisement - story continues below
"These Democrats only have one tired trick —political theater —and their latest request only reinforces that pathetic reality."
Trump is vowing to use "executive privilege" — a doctrine that protects the confidentiality of White House communications — to gum up the Select Committee investigation.

(A former president can still sue and make an executive privilege claim in court. It'd be a uphill battle.) pic.twitter.com/OttRvTGeHm

— Jan Wolfe (@JanNWolfe) August 26, 2021
The select committee is investigating the Capitol riot that occurred on January 6. Following the riot, Trump was impeached by the House of Representatives on the charge of "incitement of insurrection." He was acquitted by the Senate.
The committee sent requests on Wednesday to several federal agencies for information on January 6 and the days leading up to it.
Advertisement - story continues below
This includes "communications within and among the White House and Executive Branch agencies during the leadup to January 6th and on that day; attempts to place politically loyal personnel in senior positions across government after the election; the planning, organization, funding, and response to events in Washington, DC on January 5th and 6th and earlier; and attempts to subvert the rule of law, overturn the results of the November 3rd, 2020 election, or impede the peaceful transfer of power."
Committee Chairman Bennie Thompson (D-Miss.) wrote in a letter on Wednesday, "The Select Committee to Investigate the January 6th Attack on the United States Capitol is examining the facts, circumstances, and causes of the January 6th attack. Our Constitution provides for a peaceful transfer of power, and this investigation seeks to evaluate threats to that process, identify lessons learned and recommend laws, policies, procedures, rules, or regulations necessary to protect our republic in the future."
The Democratic lawmaker asked for the information to be produced no later than September 9.
Notably, the committee is seeking "documents and communications related to the mental stability of Donald Trump or his fitness for office."
The committee also asked for documents and communications that involves "a host of Trump World denizens, including Hope Hicks, former national security adviser Robert O'Brien, Trump adviser Peter Navarro, Kayleigh McEnany, Steve Bannon, Michael Flynn, Melania Trump, all Trump's adult children except Tiffany Trump, Kimberly Guilfoyle, Rudy Giuliani and Roger Stone," as Politico reports.
Advertisement - story continues below
The sweeping request sought White House records from the National Archives and Records Administration and records from seven other Executive Branch agencies. pic.twitter.com/XcBigbzFDE

— January 6th Committee (@January6thCmte) August 25, 2021
Roger Stone pushed back, telling Politico, "I think it is unlikely that the House committee witch hunt is going to find any documents or evidence that the FBI could not find. I say again: any claim, implication, insinuation or assertion that I either knew about or had anything to do with the events of January 6 is categorically false and there is no evidence to the contrary."
Truth and Accuracy
We are committed to truth and accuracy in all of our journalism. Read our editorial standards.
Conversation