Trump Vows to End Violent Demonstrations: 'These Are Acts of Domestic Terror'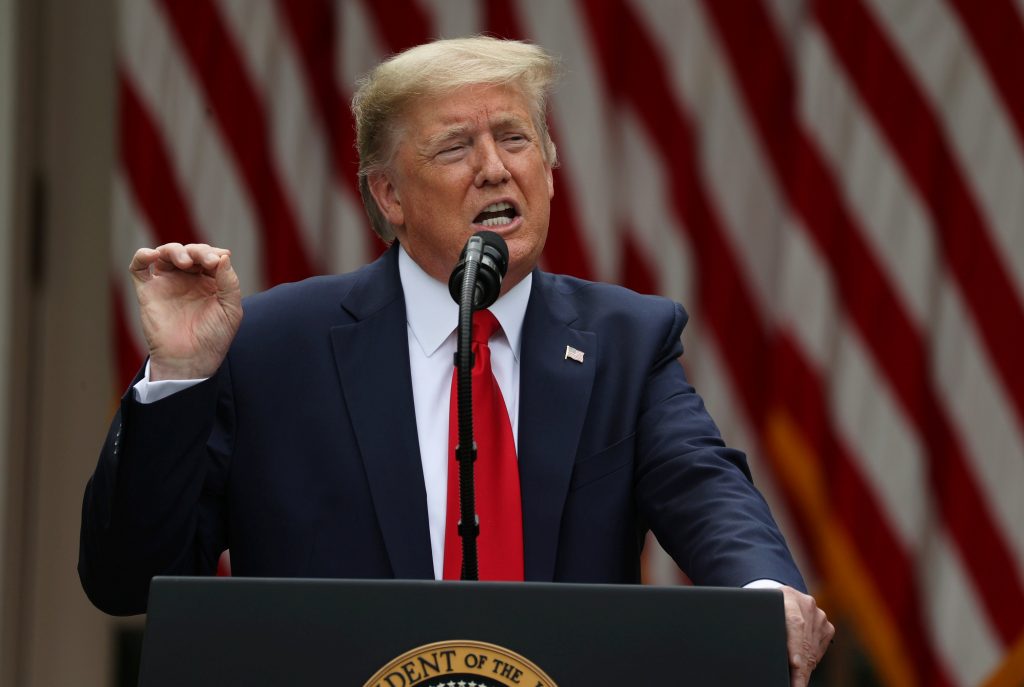 Following days of violent demonstrations in the wake of George Floyd's death, President Donald Trump is vowing to "stop the violence and restore security and safety in America."
"All Americans were rightly sickened and revolted by the brutal death of George Floyd," Trump said during remarks in the Rose Garden on Monday evening as the sound of tears canisters could be heard in the background while law enforcement cleared the area of protesters.
"My administration is fully committed that for George and his family, justice will be served. He will not have died in vain," Trump vowed.
"We cannot allow the righteous cries of peaceful protesters to be drowned out by an angry mob," he said.
"In recent days, our nation has been gripped by professional anarchists, violent mobs, arsonists, looters, criminals, rioters, Antifa, and others," he said before listing incidents of violence and vandalism.
He continued, "These are not acts of peaceful protests. These are acts of domestic terror. The destruction of innocent life, and the spilling of innocent blood is an offense to humanity and a crime against God."
Trump announced that he recommended that governors deploy an "overwhelming law enforcement presence" to quell the violence. He also vowed to deploy the military to quell the violence if state and local governments do not.
Watch the video below:
Additionally, Trump sent a message to the individuals who instigate violence, "Those who threaten innocent life and property will be arrested, detained, and prosecuted to the fullest extend of the law."
"I want the organizers of this terror to be on notice that you will face severe criminal penalties and lengthy sentences in jail," he added.
Shortly after his remarks, Trump walked from the White House through Lafayette Square to the historic St. John's Church which had been set on fire on Sunday night.
Watch the video below:
I almost can't believe what I'm seeing. POTUS just walked out the front door of the White House and into Lafayette Square – the epicenter of the DC protests – to visit historic St. John's Church, which was set on fire last night. pic.twitter.com/XueoF2RC6z

— Kristin Fisher (@KristinFisher) June 1, 2020
"It's coming back strong," says @POTUS of the country, while he holds a Bible in front of St. John's Church. pic.twitter.com/9gmhpxZZNF

— Steve Herman (@W7VOA) June 1, 2020
Floyd, an unarmed black man, died on May 25 after a Minneapolis police officer, pinned him to the ground by placing his knee on Floyd's neck for several minutes.
In the days after Floyd's death, protests broke out in cities across the country. While many started peacefully, they turned violent at nightfall as demonstrators lit fires, looted stores, and vandalized buildings.
While Trump did not initially deliver formal remarks on the situation at the White House, he sent out a series of tweets which were highly criticized.
Several Democratic leaders accused Trump of inciting violence with his comments, as IJR reported.
But on Monday, after two days of violent demonstrations, Floyd's brother Terrence appealed for peace, as IJR reported.
"Let's switch it up, do this peacefully … please," Floyd told people who had gathered at a makeshift memorial in Minneapolis — at the spot where George Floyd died.
He added, "I know he would not want y'all to be doing this."
Instead of resorting to violence, Terrence encouraged people to vote and to learn about the candidates. He said, "Educate yourself and know who you're voting for. And that's how we're going to hit 'em."
Former President Barack Obama (D) also urged Americans to refrain from violence, "Let's not excuse violence, or rationalize it, or participate in it."
"If we want our criminal justice system, and American society at large, to operate on a higher ethical code, then we have to model that code ourselves," Obama added.