Commentary
Trump Shares Whether He Will Support GOP Nominee if It Is Not Him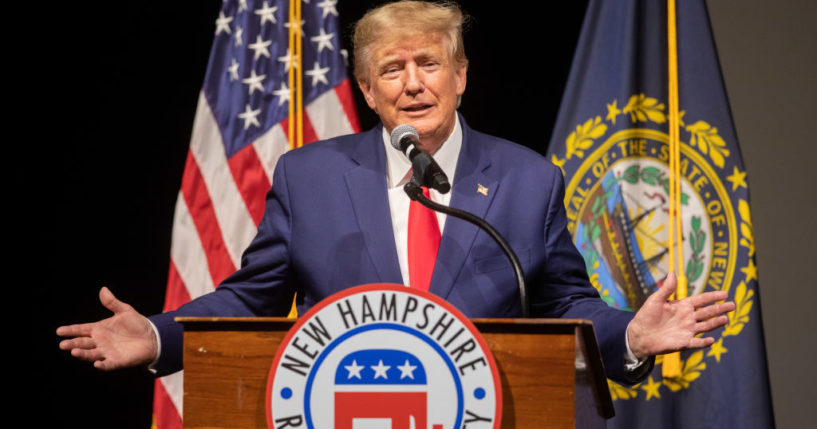 As in 2016, there are questions about what former President Donald Trump will do if he does not win the Republican presidential nomination.
On Thursday, conservative radio host Hugh Hewitt noted former Maryland Gov. Larry Hogan (R) "told me that if you are the nominee, he will support you."
"My question to you, Mr. President, if you're not the nominee will you support whoever the GOP nominee is?" he asked.
Advertisement - story continues below
Trump responded, "It would depend."
"I would give you the same answer I gave in 2016," he continued. "It would have to depend on who the nominee was."
Listen to his comments below:
Donald Trump refuses to commit to supporting the GOP nominee. pic.twitter.com/ybFUXNjfBY

— The Republican Accountability Project (@AccountableGOP) February 2, 2023
Advertisement - story continues below
This is a kind of strategy to essentially scare Republicans into voting for Trump.
He tried it in the 2016 campaign, and it certainly worried Republicans at the time. Back then, it was not clear how strong a political force he was. And the prospect of a fairly sizable chunk of the base not voting for the nominee petrified many Republicans.
Do you think Trump should support the nominee?
But 2024 might be different.
Republicans have seen the consequences of staying home and not voting in Georgia's 2020 Senate elections — which gave Democrats a narrow majority and the ability to ram through massive spending packages.
There would likely be conservatives who would decline to vote for the nominee if Trump did not endorse them, or told not to vote for the nominee.
Advertisement - story continues below
However, most Republicans — having seen how President Joe Biden's first term went — would probably be eager to oust him from office. And they are not going to risk blowing that election.
Aside from the question of whether or not voters would listen to the former president's opinion, there is also the question of whether he would want to risk further setting his reputation on fire by being blamed for what losing could be another winnable election.
He must know this is his last chance to be president again. If he loses the primary, he will have few political opportunities to redeem himself. By the time of the 2028 election, he would be in his 80s, so running for president then is probably not realistic.
Trump can either be a team player if he does not win the nomination, or the last part of his political biography will be about him sabotaging the party. He will likely not have another chance to win the presidency and reform his image by enacting conservative policies.
Advertisement - story continues below
And he will have to ask himself if he really wants to end his political career looking like a sore loser who, in his final act, cost Republicans yet another election.
Truth and Accuracy
We are committed to truth and accuracy in all of our journalism. Read our editorial standards.
Comment Down Below
Conversation