Trump Says He 'Certainly' Will Leave the White House if Biden Wins the Electoral College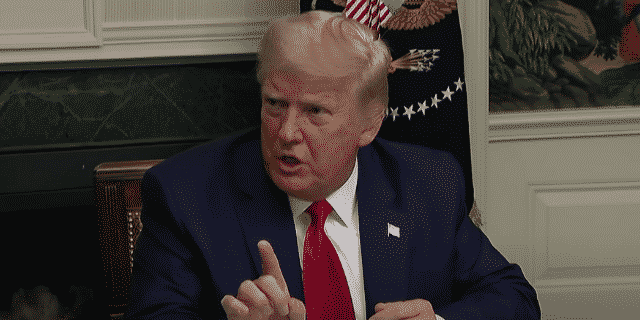 If the Electoral College backs President-elect Joe Biden in the 2020 presidential election, President Donald Trump says he will leave the White House.
When asked by a reporter on Thursday if the Electoral College votes for Biden on Dec. 14 if he will concede the election, Trump first responded, "It's going to be a very hard thing to concede."
He continued, "We know there was massive fraud," later adding, "It was a rigged election."
Trump has continued to make claims of unsubstantiated widespread voter fraud since Election Day.
When pressed again on if he will concede if the Electoral College backs Biden, Trump said, "If they do, they made a mistake," before adding, "Just so you understand, this election was a fraud."
However, Trump then blasted the reporter, "You're just a lightweight. Don't talk to me that way. I'm the President of the United States. Don't ever talk to the President that way."
Asked the same question by another reporter right after about if he would leave the White House, Trump responded, "Certainly I will. Certainly I will. And you know that."
This is the first time Trump has taken questions from reporters since Election Day.
Watch the video below:
A spokesperson for Biden's campaign said in response to Trump's remarks, "President-elect Biden won 306 electoral votes. States continue to certify those results, the Electoral College will soon meet to ratify that outcome. Biden will be sworn in as President on Jan. 20, 2021," according to Reuters.
Trump has refused to concede the election so far, though all major news outlets have projected Biden as the winner of the election. Biden garnered 306 Electoral College votes while Trump got 232 electoral votes — out of the 270 electoral votes needed to win the White House.