News
Tucker Carlson Dismisses Potential 2024 Run: 'Oh God, Come On!'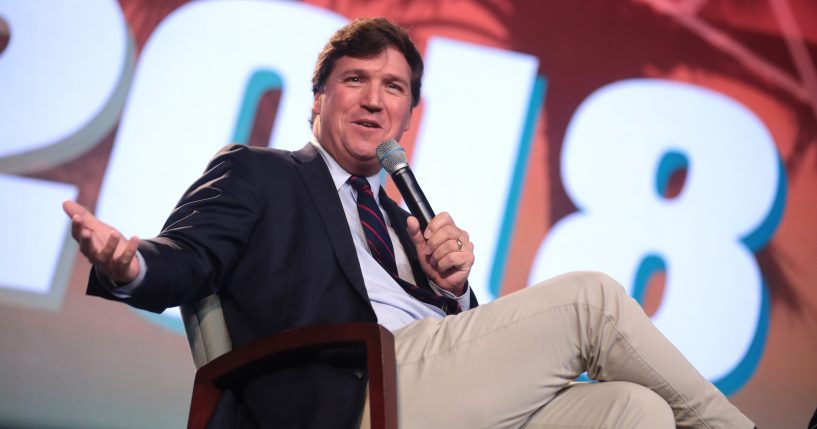 Fox News host Tucker Carlson is dismissing the idea of running for president in 2024.
During an interview on the "Ruthless" podcast released on Friday, Carlson was asked if would run for president in 2024.
"Oh God, come on!  Yeah. I'll be running," he said sarcastically. "That seems like a fun job. I'm sure my poor children would love that. Can you imagine?"
Advertisement - story continues below
He continued, "I've known and talked to every president, you know, for a while, for like more than 30 years. And you know, I can't think of anyone whose life was improved by that." 
"I mean, I guess if like I was the last person on earth, I could do it, but I mean, it seems pretty unlikely that I would be that guy," Carlson added.
Listen to the podcast below:
Advertisement - story continues below
Carlson's Fox News show averaged 2.9 million in the month of May, making him the most watched cable news host that month.
Speculation has swirled for months that the host may toss his hat in the ring for the 2024 Republican presidential nomination, and some believe he could become the new leader of former President Donald Trump's political movement.
Sam Nunberg, a former top political aide to Trump, told Politico last year, "Let me put it this way: If Biden wins and Tucker decided to run, he'd be the nominee."
However, Carlson has previously signaled that he is not interested in running for the White House. Speaking at a conservative gathering in 2019, he said, "If I were running for president — which obviously I would never do, I would be insane to run for president, I would never do that — but if I were advising someone who was running for president, I would say make that the centerpiece of your campaign. Vote for me, and you can raise your own kids."
Truth and Accuracy
We are committed to truth and accuracy in all of our journalism. Read our editorial standards.
Conversation