CNN's Van Jones Says 'Nothing' He Saw During Dem Debate 'Would Be Able to Take Donald Trump Out'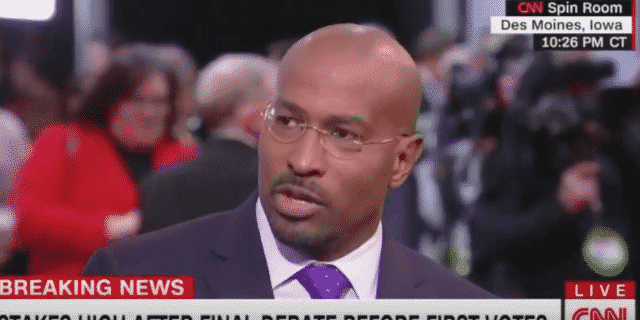 CNN commentator Van Jones is casting doubt on the current 2020 Democratic field, as he does not think there was a candidate strong enough on the stage during Tuesday night's debate to defeat President Donald Trump.
Following the seventh Democratic debate in Iowa, Jones noted the tensions between Sens. Elizabeth Warren (D-Mass.) and Bernie Sanders (I-Vt.), "As a progressive, to see those two have that level of vitriol was very dispiriting."
"I want to say that tonight for me was dispiriting," Jones continued, adding, "Democrats got to do better than what we saw tonight."
"There was nothing I saw tonight that would be able to take Donald Trump out, and I want to see a Democrat in the White House as soon as possible."
Additionally, he noted in a tweet, along with the video, that the Democratic contenders need "to start showing up a lot stronger" in order to win the White House.
"There's something this party's gotta figure out," Jones said. "This felt like drudgery tonight. It shouldn't feel this way close to one of the most important elections in the country."
Asked by CNN's Anderson Cooper if there was anyone on Tuesday's debate stage that he could see that "that's the person" to be the Democratic nominee, Jones responded, "I don't see it."
See Jones' comments below:
.@ewarren had breakout moments tonight, but did anyone on that stage really seem ready to take on Trump in a debate? If we want a Democrat to win the White House (which I certainly do) we need our candidates to start showing up a lot stronger. #DemDebate @CNN pic.twitter.com/TO88Bn0ipv

— Van Jones (@VanJones68) January 15, 2020
.@VanJones68 came away from the debate worried about the state of the Democratic party.

"It just felt like a big bowl of cold oatmeal and I missed, I gotta say this, I missed Andrew Yang tonight."#AmericaNeedsYang pic.twitter.com/dCWdojHeST

— The Zach and Matt Show (@ZachandMattShow) January 15, 2020
"I had high expectations for the candidates during tonight's [Democratic Debate], but there was a spark missing on stage," Jones tweeted after the debate, adding, "It felt like cold oatmeal to me. Do you agree?"
There were six Democratic contenders on the debate stage, who took on several different issues, as IJR reported. Warren came out as one of the "winners" of the night by several outlets, including CNN, Business Insider, and USA Today.