News
Video of FL Dem Gubernatorial Candidate Surfaces — Appears to Compare Himself to Christ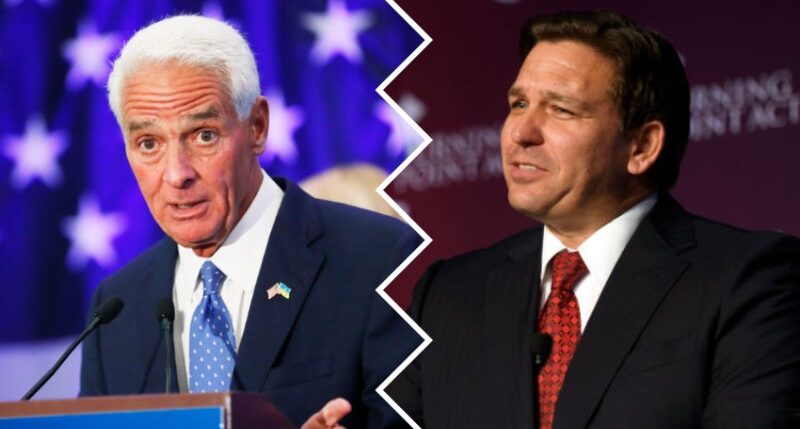 Florida Democratic gubernatorial candidate Charlie Crist brought up how some people compare Florida Gov. Ron DeSantis (R) to Satan — and seemed to refer to himself as Christ. A surfaced video shows Crist talking about the comparison.
The "DeSantis War Room" Twitter account posted the video of Crist, where he is heard saying, "Look at that sign right there. You see the colors? The blue and the yellow. Does that remind you of any country that's in the news?" The audience responded, "Ukraine."
He replied, "Yeah, we're fighting for freedom too. We're fighting for freedom too. And Zelensky, President Zelensky, is amazing. And the courage, and the strength, and the decency that he shows."
Advertisement - story continues below
Crist then went on about the comparison: "This is an election about decency, about being decent to one another, about being kind to everyone. It's called a Florida for all. You know, we got a divider on the other side [DeSantis] and a uniter over here," referring to himself.
"You know, some people call him 'DeSatan,' have you heard that?" he added. "DeSatan vs. that," as he pointed to a campaign sign with his name.
The audience responded, "Christ."
Crist's remarks were made at an event on March 17, 2022, the DeSantis War Room told the Daily Caller.
Advertisement - story continues below
See his comments below:
In just one minute, Charlie Crist compares himself to both Ukrainian President Volodymyr Zelensky and Jesus Christ. pic.twitter.com/Y921vt1qAB

— DeSantis War Room (@DeSantisWarRoom) September 12, 2022
Who do support in this election?
DeSantis' campaign did not hold back as his rapid response director Christina Pushaw told the Daily Caller, "Charlie Crist has always been self-absorbed, but comparing himself to the second coming of Jesus Christ is a new level of bizarre delusion. He's beyond embarrassing — and it's only September."
According to a Politico forecast posted on September 5, "Florida has been trending Republican, and the GOP has the wind at its back in this year's midterm — all suggesting DeSantis may not face the kind of nailbiter he did in 2018. That could set the incumbent up for a presidential bid — in 2024 or beyond."
In his analysis of Florida leaning Republican for the November election, chief Politico election reporter Steve Shepard had "incumbency," "fundraising," and "long-term trends" favoring DeSantis.
Advertisement - story continues below
Meanwhile "candidate quality" was a "toss-up," which is if the candidate over- or under-performs "compared to how a generic Democrat or Republican would run in this case."
Truth and Accuracy
We are committed to truth and accuracy in all of our journalism. Read our editorial standards.
Comment Down Below
Conversation