Violent Protests and Fires Erupt in Minneapolis as Protesters Demand Justice for George Floyd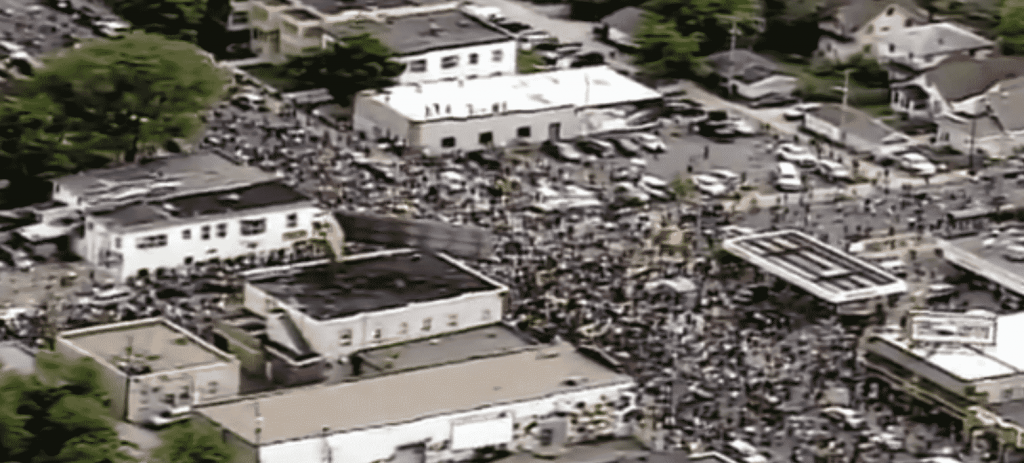 Violent protests are escalating in Minneapolis, Minnesota, in the wake of the death of George Floyd.
Photos and footage of the events that took place on Wednesday night are circulating on social media. The metropolitan city has been ravaged for the last roughly 48 hours.
Frustrated protesters can be seen demonstrating with signs, vandalizing buildings, looting stores, and torching businesses, demanding Hennepin County Attorney Mike Freeman to hold the officers accountable for Floyd's untimely death in police custody.
This is the protest that took place yesterday in Minneapolis over the murder of George Floyd. The last photo shows his girlfriend, Shawanda Hill, crying by the location he was killed at. Really take that in. See the aftermath of racism and police brutality. #BlackLivesMatter pic.twitter.com/NEIEnVtDbn

— 🦇 (@HalloweenHailey) May 27, 2020
Lots of violent images being shared, this is the protest before cops fired gas. They hired the first shot. Not us. But they dont hear us when we march so we fight back. #GeorgeFloyd #BlackLivesMatter #Minneapolis pic.twitter.com/jCwsu3D6QY

— Triple H (@HenryHuber) May 27, 2020
According to multiple reports, an AutoZone location was set on fire Wednesday night and a Target store has been looted.
Major Protests / Riots in Minneapolis tonight over the death of #GeorgeFloyd and Police brutality.

This is an Auto Zone store on fire: pic.twitter.com/XP1WDppxVA

— Joyce Karam (@Joyce_Karam) May 28, 2020
Looters rampaged through a Target store in Minneapolis, carrying out shopping carts full of products, on the second day of protests over the death of an unarmed black man https://t.co/uXmXy8tA58 pic.twitter.com/LD7hM6ODzZ

— Reuters (@Reuters) May 28, 2020
In Minneapolis, where George Floyd was killed Monday, a community reels from a second night of protests, marked by looting and buildings on fire as protesters clashed with police. @OmarJimenez reports https://t.co/bBNRgGwgJm pic.twitter.com/Al46RFtu3W

— New Day (@NewDay) May 28, 2020
Floyd's death has yet again shined a light on racial tension in the United States. Protests have escalated to the point where Minneapolis Mayor Jacob Frey has taken precautionary measures, requesting the presence of the National Guard.
"Rare Footage" .
Protest #Video From #Minneapolis against the killing of #GeorgeFloyd . #MinneapolisPoliceMurderdHim #BlackLivesMatter #GeorgeLloyd#video #viral pic.twitter.com/t3hFN4hZ0Y

— The Voice Of Liberty (@VOLFdotTV) May 27, 2020
As protests intensify, so do the calls for charges to be brought against the four officers involved.
Huge protests have broken out in the streets of Minneapolis over the killing of #GeorgeFloyd by Minneapolis police pic.twitter.com/kXSIt4vLcy

— philip lewis (@Phil_Lewis_) May 27, 2020
On Wednesday, Frey released another statement calling for the arrest now-terminated officer Derek Chauvin while pressing Freeman to file criminal charges. Chauvin is the officer seen with his knee pinned into Floyd's neck during the arrest, as previously reported on IJR.
"I've wrestled with, more than anything else over the last 36 hours, one fundamental question: Why is the man who killed George Floyd not in jail?" Frey said. "If you had done it, or I had done it, we would be behind bars right now. And I cannot come up with a good answer to that."
Freeman's office has released a statement about the status of the investigation as he responded to the public outcry for charges to be brought against the officers involved.
"We are working with the Minnesota Bureau of Criminal Apprehension (BCA) and the Hennepin County Medical Examiner to expeditiously gather and review all of the evidence in the tragic death of Mr. George Floyd," Freeman's office said in a statement.
Freeman's office concluded, "The videotaped death of Mr. Floyd, which has outraged us and people across the country, deserves the best we can give and that is what this office will do."