News
WaPo Warns of the 'Danger of Suppressing Accurate' Stories After Verifying Communications From Hunter Biden's Laptop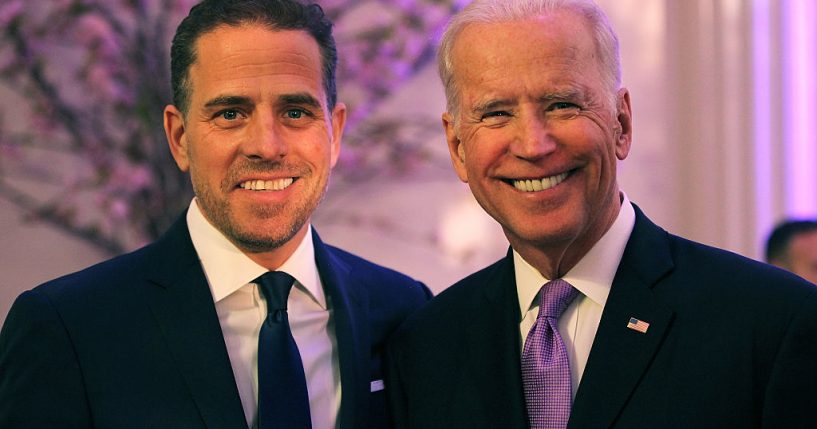 Now that The Washington Post has confirmed some of the contents from Hunter Biden's laptop, its editorial board is suggesting the "lesson learned from 2020" is that there is "a danger of suppressing accurate and relevant stories."
In an editorial published on Sunday, the Post's editorial board wrote, "There was something grotesquely familiar about last week's revelations about Hunter Biden's business dealings abroad, both in the story's particulars and in the more general saga of sleazy self-dealing into which it fits."
"The idea that these latest revelations definitively vindicate or villainize any party except Mr. Biden himself, however, is misplaced," it added.
Advertisement - story continues below
It noted that last week the paper reported on multi-million dollar business deals Hunter Biden made with a Chinese energy company.
The editorial argued the Post's reporting "adds new details and confirms old ones about the ways in which Joe Biden's family has profited from trading overseas on his name."
There was something grotesquely familiar about last week's revelations about Hunter Biden's business dealings abroad, the Editorial Board writes.https://t.co/gyGZ8iOXzY

— Washington Post Opinions (@PostOpinions) April 3, 2022
However, it said that the paper's reporting did not find evidence that President Joe Biden "acted corruptly."
Advertisement - story continues below
"For now, what's more compelling than the assorted accusations about the Bidens' behavior is this question: Why is confirmation of a story that first surfaced in the fall of 2020 emerging only now?" the editorial argued.
In 2020, the New York Post published a story about information that it said came from a laptop that belonged to Hunter Biden, which was left at a computer repair shop in Delaware.
Do you think Twitter acted correctly in 2020?
The editorial board recalled that "mainstream media organizations balked at running with the same narrative" while social media platforms "displayed even greater caution."
At the time, just weeks before the 2020 presidential election, Twitter blocked users from sharing the story and suspended the New York Post's account.
Twitter said that the story violated its hacked materials policy.
Advertisement - story continues below
Facebook also limited its distribution amid concerns about misinformation ahead of the election. In Oct. 2020, more than 50 former intelligence officials signed a letter that warned that emails the New York Post said came from Hunter Biden's laptop might have been Russian disinformation.
"Now, The Washington Post and the New York Times have vouched for many of the relevant communications," the editorial continued.
It argued:
"This series of events has prompted allegations of a coverup, or at best a double standard in the treatment of conservative and liberal politicians by mainstream media and social media sites. Yet there was reason in this case for reluctance on the part of the publications and the platforms alike. Both had been the unwitting tools of a Russian influence campaign in 2016, and it was only prudent to suspect a similar plot lay behind the mysterious appearance of a computer stuffed with juicy documents and conveniently handed over to President Donald Trump's toxic personal attorney, Rudy Giuliani."
Advertisement - story continues below
However, the editorial board wrote, "This context doesn't necessarily exonerate every action of every publication and platform. It makes obvious sense for newspapers to wait to verify information before turning it into a story."
"None of these dilemmas have easy answers. The lesson learned from 2016 was evidently to err on the side of setting aside questionable material in the heat of a political campaign," it added.
Finally, the editorial suggested, "The lesson learned from 2020 may well be that there's also a danger of suppressing accurate and relevant stories."
Truth and Accuracy
We are committed to truth and accuracy in all of our journalism. Read our editorial standards.
Comment Down Below
Conversation