Commentary
WaPo Nukes the Left's Attempt to Blame Trump for Train Derailment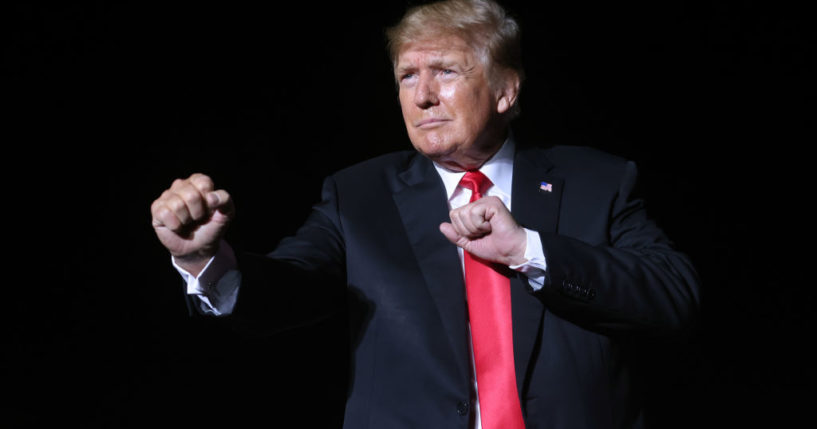 The Norfolk Southern train derailment in East Palestine, Ohio, has become somewhat of a political issue.
In the wake of the incident, commentators and Transportation Secretary Pete Buttigieg have sought to place blame on former President Donald Trump's administration for rolling back regulations.
However, The Washington Post's fact-checker Glenn Kessler examined whether his administration's regulatory changes played a role in the derailment.
Advertisement - story continues below
"We decided to examine every possible regulatory change made under Trump that could be related to the accident and assess whether it could have made an impact," Kessler wrote.
ICYMI (free link) –> So far, Trump's rollback of regulations can't be blamed for Ohio train wreck https://t.co/211a16S9TV

— Glenn Kessler (@GlennKesslerWP) February 27, 2023
He noted a preliminary report by the National Transportation Safety Board (NTSB) shows the crew of the train received a warning about an overheating wheel bearing, and the crew tried to slow the train down before it derailed.
"From our analysis, none of the regulatory changes made during the Trump administration at this point can be cited as contributing to the accident," Kessler added.
Advertisement - story continues below
The first rollback the fact-checker examined was an Obama-era rule requiring "high hazard" trains to be equipped with electronically controlled pneumatic brakes. The Trump administration decided the change's benefits outweighed the cost and the rule was repealed in 2017.
However, Kessler explained President Joe Biden's administration did not take steps to reinstate the rule.
Do you think Trump deserves blame?
He rated the rule change's impact as "minimal," as he noted NTSB chair Jennifer Homendy has previously explained it would not have applied to this specific train because it was a "mixed freight train."
The Post noted the Trump administration "issued a rule that extended how much time a freight rail train could be parked with its air brake system depressurized before requiring a new brake inspection" in 2020. However, it added, "There is no determination yet that the braking system played a role in the accident."
It also pointed out that the Trump administration withdrew a proposal to require two-person crews on trains at all times. But, the article explained the train that derailed in Ohio had two people plus a trainee on board.
Advertisement - story continues below
Additionally, Trump's administration issued a rule change to allow for quicker railroad inspections. However, Kessler wrote, "The NTSB inspected the tracks, and the preliminary report makes no mention of any problem."
Another rule change on Trump's watch was the end of recurring safety audits of railroad tracks and railroad companies. But the article explained Biden's administration launched a new audit program, and Norfolk Southern received a safety audit in 2022.
Finally, Kessler pointed out the former president's administration adopted a low standard for regulating the emissions of ethylene oxide — which is used to make a chemical that was found near the derailment. However, he added, "The rule concerned emissions by chemical plants, not the synthetic chemical released in the accident."
Perhaps as the investigation into the derailment continues, it will be revealed a warning sign was missed because of a rule change by the Trump administration.
Advertisement - story continues below
But the attempt to blame Trump by highlighting rule changes that, in some cases, did not even apply to this train just looks like people grasping for straws. And it seems like a sad attempt to try to keep conservatives from using the response to the derailment as a cudgel against Biden.
Truth and Accuracy
We are committed to truth and accuracy in all of our journalism. Read our editorial standards.
Comment Down Below
Conversation