'We Have Lost a Giant': Rep. John Lewis, Civil Rights Icon, Dies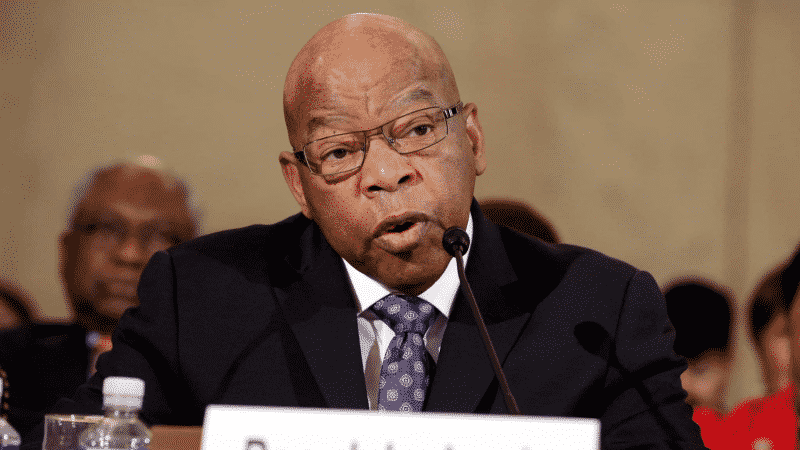 Rep. John Lewis (D-Ga.), a Civil Rights icon, died on Friday at 80-years-old after battling cancer — drawing words of remembrance from many.
After being elected in 1986, Lewis served 17 terms in Congress. Prior to that, he rose from poverty and he became a civil rights movement leader. He helped Martin Luther King Jr. organize the March on Washington and Lewis was a member of King's inner circle. In 1965, he was beaten by an Alabama state trooper while leading hundreds of voting rights marchers from Selma to Montgomery during a peaceful march. That day is known as "Bloody Sunday." He was arrested over 40 times for civil rights activities between 1960 to 1966.
Lewis shared to the public in December of 2019 that he was diagnosed with advanced pancreatic cancer.
Rep. John Lewis, a son of sharecroppers who survived a brutal beating by police during a landmark 1965 march in Selma, Alabama, to become a towering figure of the civil rights movement and a longtime congressman, has died after battling cancer. He was 80. https://t.co/ffB0a9NhWb pic.twitter.com/zBTlzie9ae

— CNN (@CNN) July 18, 2020
"It doesn't matter whether we're Black or white, Latino or Asian American or Native American, gay or straight – we're one people, we're one family…when we finally accept these truths, then we will be able to fulfill Dr. King's dream." – John Lewis in 2013 https://t.co/x6VYpawf36 pic.twitter.com/By2n8Jreuj

— POLITICO (@politico) July 18, 2020
Among the many people who offered a tribute to Lewis was former President Barack Obama, who wrote in a statement, "He loved this country so much that he risked his life and his blood so that it might live up to its promise. And through the decades, he not only gave all of himself to the cause of freedom and justice, but inspired generations that followed to try to live up to his example."
He later added:
"He believed that in all of us, there exists the capacity for great courage, a longing to do what's right, a willingness to love all people, and to extend to them their God-given rights to dignity and respect. And it's because he saw the best in all of us that he will continue, even in his passing, to serve as a beacon in that long journey towards a more perfect union."
Obama concluded, "Not many of us get to live to see our own legacy play out in such a meaningful, remarkable way. John Lewis did. And thanks to him, we now all have our marching orders — to keep believing in the possibility of remaking this country we love until it lives up to its full promise."
Not many of us get to live to see our own legacy play out in such a meaningful, remarkable way. John Lewis did:https://t.co/KbVfYt5CeQ

— Barack Obama (@BarackObama) July 18, 2020
House Speaker Nancy Pelosi (D-Calif.) described Lewis as "a titan of the civil rights movement whose goodness, faith and bravery transformed our nation."
.@RepJohnLewis was a titan of the civil rights movement whose goodness, faith and bravery transformed our nation. Every day of his life was dedicated to bringing freedom and justice to all. pic.twitter.com/xMbfAUhLUv

— Nancy Pelosi (@SpeakerPelosi) July 18, 2020
Former President Bill Clinton and Hillary Clinton wrote in a statement, "We have lost a giant. John Lewis gave all he had to redeem America's unmet promise of equality and justice for all, and to create a place for us to build a more perfect union together."
They added, "Our hearts go out to his son John-Miles and the entire Lewis family, his able loyal staff, and all who loved and admired him the world over."
We've lost a giant of the civil rights movement with the passing of C.T. Vivian.

I hope the next Congress honors his life and legacy, and the lives and legacies of his compatriots, by restoring the VRA. https://t.co/hTsskVVrtV

— Hillary Clinton (@HillaryClinton) July 17, 2020
Hillary and I were blessed by his friendship, support and wise counsel. We'll miss him so much, but we'll always be grateful that he lived to see a new generation of Americans take to the streets in search of his long sought "beloved community." https://t.co/gKDuLmUMLQ

— Bill Clinton (@BillClinton) July 18, 2020
Several others took to Twitter:
From marching in Selma to serving in the House, Representative John Lewis spent his life fighting for civil rights for every single American. He is an American hero and a giant. And we are all better for the "good trouble" he made. Rest in peace, John.

— Chuck Schumer (@SenSchumer) July 18, 2020
Goodbye, John Lewis. Thank you for the #goodtrouble pic.twitter.com/LDzDV1dKXW

— Stephen Colbert (@StephenAtHome) July 18, 2020
Rest in Heavenly peace Mr. John Lewis. Thank you for your service, for your committment to change and your courage. You did great with your time on this earth. "Goodnight sweet Prince. May flights of angels sing the to thy rest." And…pour some blessings on us down here 🙏🏿❤️ pic.twitter.com/9ZBSnLYmMa

— Viola Davis (@violadavis) July 18, 2020
Today we have lost a heroes' Hero.. Thank you God for John Lewis's life of service. Let us continue to try to walk his walk of truth. Rest in Power. pic.twitter.com/9YZVC7e95Y

— Mariah Carey (@MariahCarey) July 18, 2020
America has lost an iconic son and a moral giant. Freedom rider. Marcher. Conscience of the nation. Throughout the course of his remarkable life John Lewis showed us how to dream of a better, more just world and how to make that "beloved community" a reality. Rest in peace pic.twitter.com/aXjeZ6Eep8

— Eric Holder (@EricHolder) July 18, 2020
Rep. John Lewis has passed. It is not enough to say he was a revered civil rights icon. He was a man of impeccable integrity who dedicated his life to fighting against racism, discrimination & injustice. John was a true leader who inspired us all to have the courage to fight.

— Maxine Waters (@RepMaxineWaters) July 18, 2020
John Lewis at 23 years old speaking at the 1963 March on Washington. Listen to his words. Hear his message. #goodtrouble
pic.twitter.com/sJk3gUN1Y4

— Karine Jean-Pierre (@K_JeanPierre) July 18, 2020
We are all devastated by the loss of our friend John Lewis.

Unfailingly kind and quick to smile, with a presence that radiates still. The conscience of the Congress.

John, you did good, and taught generations what good trouble truly means.

We'll keep fighting in your honor. pic.twitter.com/x3t1ZFZG8h

— Adam Schiff (@RepAdamSchiff) July 18, 2020
John Lewis was an icon who fought with every ounce of his being to advance the cause of civil rights for all Americans. I'm devastated for his family, friends, staff—and all those whose lives he touched.

My friend, thank you for showing the world what #GoodTrouble looks like. pic.twitter.com/cvG8nSJCW5

— Kamala Harris (@KamalaHarris) July 18, 2020
God has welcomed @repjohnlewis home. Defender of justice. Champion of right. Our conscience, he was a griot of this modern age, one who saw its hatred but fought ever towards the light. And never once did he begrudge sharing its beauty. I loved him & will miss him. #JohnLewis pic.twitter.com/XNbiEsClQl

— Stacey Abrams (@staceyabrams) July 18, 2020
John Lewis was a giant.

A civil rights legend.
A leader in the halls of Congress.
And a moral voice for the whole nation.

Having the opportunity to serve with him was one of the great honors of my life. pic.twitter.com/b3YJh404YH

— Ilhan Omar (@IlhanMN) July 18, 2020
John Lewis was a legend of the civil rights movement who never stopped fighting for equality and justice for all, even in his final days. America is a more perfect union because of the blood, sweat, and tears he sacrificed. I was proud to call him a friend. pic.twitter.com/56YvUYXS3G

— Steve Scalise (@SteveScalise) July 18, 2020
John Lewis was an extraordinary man—a patriot in the truest sense. And he was my friend.

One of the greatest honors of my life was to join him for multiple trips to Selma to march across the bridge. His life and legacy as a congressman and civil rights icon will endure. pic.twitter.com/F1Pe5qS47N

— Kevin McCarthy (@GOPLeader) July 18, 2020
Lewis recently shared a tweet with a photo, marking 59 years since he "was released from Parchman Farm Penitentiary after being arrested in Jackson, MS for using a so-called 'white' restroom during the Freedom Rides of 1961."
59 years ago today I was released from Parchman Farm Penitentiary after being arrested in Jackson, MS for using a so-called "white" restroom during the Freedom Rides of 1961. pic.twitter.com/OUfgeaNDOm

— John Lewis (@repjohnlewis) July 7, 2020
Lewis wrote in a tweet in June of 2018, "Do not get lost in a sea of despair. Be hopeful, be optimistic. Our struggle is not the struggle of a day, a week, a month, or a year, it is the struggle of a lifetime. Never, ever be afraid to make some noise and get in good trouble, necessary trouble."