WH Trade Adviser Warns Those 'Hoarding' Medical Supplies: 'President Trump Will Not Tolerate That'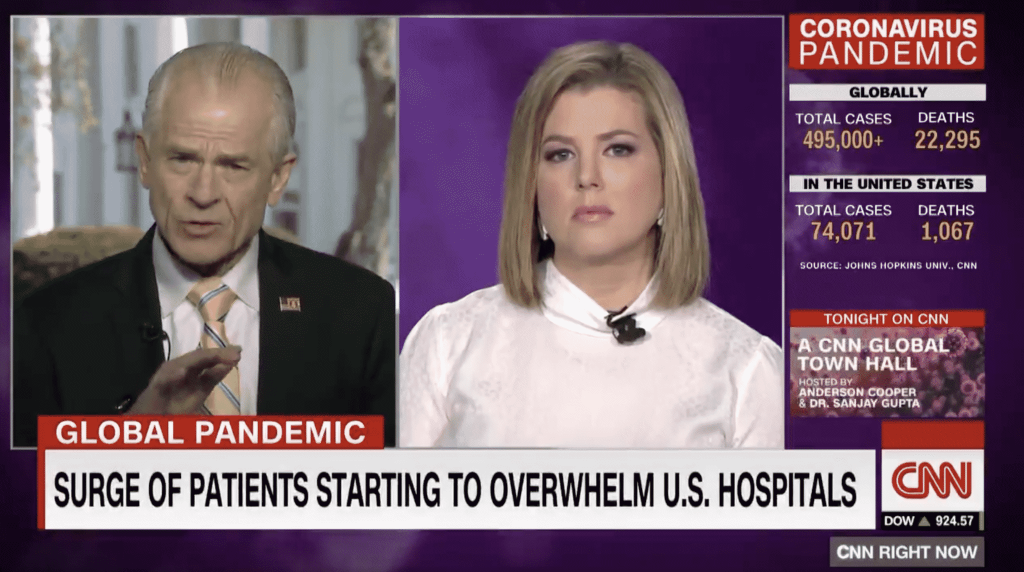 As healthcare workers are in desperate need of medical supplies, the White House is working to crack down on people hoarding them to make a profit.
"I have a very simple message that anybody who's got large quantities of any of this gear that American people need right now, if you're sitting on that and you're trying to charge high prices, we're gonna come to get you," White House Trade Adviser Peter Navarro said during an interview on CNN on Thursday. 
He continued, "My advice is, get it out on the market at a fair price and get it out today. This behavior will not be tolerated. And if you sell it at a high price today, we'll find you when all this is done."
"So, stop hoarding. This is not a time for profiteering. President Trump will not tolerate that," he added.
Watch the video below:
White House trade adviser Peter Navarro's message to price-gougers and those hoarding critical supplies: "We're gonna come to get you. … This is not a time for profiteering. President Trump will not tolerate that" https://t.co/lUV5FWbo0g pic.twitter.com/eI4YjqzFkI

— CNN Newsroom (@CNNnewsroom) March 26, 2020
Navarro's comments come days after President Donald Trump signed an executive order that bans people from storing up medical supplies in a bid to prevent price gouging.
The order allows the Department of Health and Human Services to designate medical equipment as critical. It also makes hoarding and price gouging of that equipment illegal.
"Once specific materials are so designated, persons are prohibited from accumulating those items in excess of reasonable personal or business needs or for the purpose of selling them in excess of prevailing market prices," Attorney General William Barr said Monday.
"It is a crime to engage in prohibited activity," he added.
Navarro's comments come as reports have shown that some desperately needed medical supplies are being sold for up to 20 times their normal price.
Published in IJR