News
WH Accuses GOP of Lobbing 'Shamelessly Hypocritical' Attacks Against Biden Over Classified Documents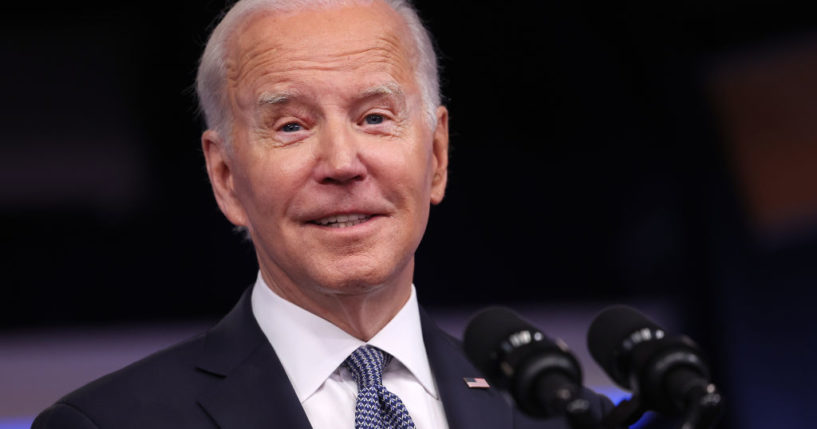 The White House is taking aim at Republicans' attacks over President Joe Biden's handling of classified documents.
In a statement on Monday, Ian Sams, a White House spokesman, said, "House Republicans have no credibility. Their demands should be met with skepticism and they should face questions themselves about why they are politicizing this issue and admitting they do not care about the underlying classified material."
"As President Biden has said repeatedly, he takes classified information seriously, which is why he immediately directed his team to ensure the documents were sent back to the government," the statement continued.
Advertisement - story continues below
Sams added, "President Biden is doing the right thing and is cooperating fully with a thorough review, but House Republicans are playing politics in a shamelessly hypocritical attempt to attack President Biden."
Check out the statement below:
Statement from @IanSams46, turning the classified docs issue back on GOP pic.twitter.com/BVpJXdHsTB

— Christopher Cadelago (@ccadelago) January 16, 2023
Sams also included links comparing Republicans' reactions to Biden's handling of classified documents to former President Donald Trump's.
Advertisement - story continues below
In August, the FBI executed a search warrant at Trump's Mar-a-Lago resort and reportedly recovered more than 300 documents with classification markings.
"How anyone could be that irresponsible. And I thought, 'What data was in there that may compromise sources and methods?' By that, I mean names of people who helped," Biden told CBS News' "60 Minutes" about his reaction to Trump's handling of classified documents.
Do you think Republicans lost their credibility on the matter?
He added it was "just totally irresponsible."
Flashback to Biden on 60 minutes after classified documents were found in Trump's home:

"How anyone could be that irresponsible?" pic.twitter.com/KFssu9Sif2

— TheBlaze (@theblaze) January 9, 2023
On Jan. 9, it was reported a U.S. attorney was reviewing roughly 10 classified documents from Biden's time as vice president that were found at the Penn Biden Center for Diplomacy and Global Engagement in Washington, D.C. Those documents were discovered in November before the midterm election.
Advertisement - story continues below
Another batch of documents was found in the garage of the president's Wilmington, Delaware, home. Those documents were discovered on Dec. 20, 2022.
And on Saturday, White House lawyer Richard Sauber revealed six documents with classified markings were found in the president's private library of his Wilmington home. One was found on Wednesday, and five more were discovered on Thursday.
Republicans on the House Judiciary Committee launched an investigation into the president's handling of classified materials.
Meanwhile, House Oversight Committee Chairman James Comer (R-Ky.) sent a letter to White House Chief of Staff Ron Klain to request a visitor log from the Wilmington residence. However, the White House said there are no visitor logs for the home.
Advertisement - story continues below
Sams was not the only one to compare Republicans' responses to the two cases. CNN aired a montage last week of Republicans and Democrats reacting to Trump's case as well as Biden's.
Republicans in the montage seemed more lenient regarding Trump, while quick to voice support for an investigation into Biden. Meanwhile, Democrats scorched the former president. And when it came to Biden, they expressed concern but also sought to draw a distinction from Trump's case.
Truth and Accuracy
We are committed to truth and accuracy in all of our journalism. Read our editorial standards.
Comment Down Below
Conversation