News
White House Smacked With 'Nearly 4' Pinocchios for 'Spin' About Republicans and Taxes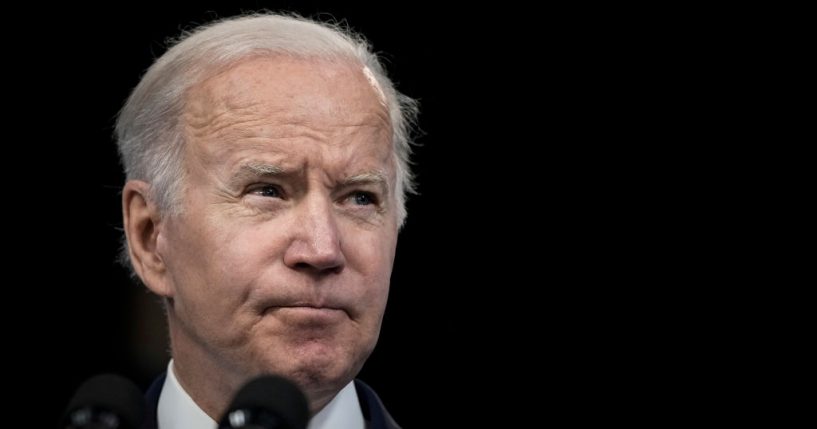 The Biden White House is getting slapped with another fact-check from The Washington Post due to the way officials continue to talk about an agenda laid out by Sen. Rick Scott (R-Fla.)
In an article titled, "Dissecting White House spin that most Republicans want to raise taxes," The Post's Glenn Kessler noted that the paper gave President Joe Biden three "Pinnohcios" three weeks ago for claiming that Congressional Republicans want to raise taxes on the middle-class.
"Many left-leaning readers were upset at our ruling — and certainly the White House has not backed off. Officials have kept to the same talking point, with occasional adjustments that sometimes acknowledge that only one congressional Republican — Sen. Rick Scott (R-Fla.) — is the primary instigator of a controversial tax plan," he added.
Advertisement - story continues below
Kessler shared that one reader sent an email that suggested they watch White House Press Secretary Jen Psaki's Tuesday press conference and "withdraw" their previous rating.
However, he said, "Contrary to the reader's assumption, Psaki's comments only reaffirmed why our original analysis was correct."
He recalled that in February, Scott released an 11-point plan to "rescue America" that included a passage which states, "All Americans should pay some income tax to have skin in the game, even if a small amount. Currently over half of Americans pay no income tax."
"Scott provided no details on his plan and offered no proposed legislative language. But his idea seemed to fill a policy vacuum. Mitch McConnell (Ky.), the Senate Republican leader, already dismissed the idea of issuing a policy platform before the midterm elections," the fact-checker pointed out.
Advertisement - story continues below
New #FactChecker –> Dissecting White House spin that most Republicans want to raise taxes https://t.co/nLnyQ61RwG

— Glenn Kessler (@GlennKesslerWP) May 12, 2022
He explained:
Do you think Biden should stop making this claim?
"Various policy groups ran the numbers and quickly found that if every taxpayer were required to pay $100, or even just $1, taxes would increase by more than $1,000 on average for the poorest 40 percent of Americans. That's because a minimum tax would wipe away the refundable tax credits that result in some households getting a check from the government."
However, Kessler points out that "virtually no Republicans have embraced Scott's plan," and the Florida senator has "suggested the line was misinterpreted."
Instead, Scott insists that under his plan, "working-class Americans" who pay "income tax, payroll tax, state and local taxes" would not see an increase.
Advertisement - story continues below
After accusing Scott of "changing the meaning of his words," the Post's fact-checker highlighted that the senator said the agenda represented his and "nobody else's policy ideas."
Kessler said, "The only reason that the White House avoided Four Pinocchios is because, at the moment, there are few competing policy platforms issued by Congressional Republicans."
Additionally, he noted that on Tuesday, Psaki insisted that prominent Republicans endorsed Scott's plan.
However, Kessler added, "After we looked into it, we found a handful of Republicans had broadly praised Scott for delivering a policy document. But virtually none endorsed either the tax plan or another controversial idea — having every law lapse after five years, apparently requiring Congress to renew even popular programs like Social Security."
Advertisement - story continues below
He then shared examples of Republicans praising Scott for releasing the plan but also not offering full-throated endorsements of every component of it.
"As we suspected, none of the quotes cited by Psaki support the specific proposals that have caused controversy. Instead, they generally are generic words of support for the idea of releasing a plan," Kessler wrote.
He added, "We still see little evidence that the proposals highlighted by the White House merit enough support that they can be dubbed 'Congressional Republican' plans, let alone plans that a 'majority' of Republicans back. Scott remains on a policy island, all by himself, though substantive alternative plans have yet to be introduced by other Republicans."
"We reaffirm our rating of Three — nearly Four — Pinocchios," the fact-checker concluded.
Truth and Accuracy
We are committed to truth and accuracy in all of our journalism. Read our editorial standards.
Comment Down Below
Conversation