News
Whoopi Goldberg Warns Audience 'The View' Co-Hosts Are 'Very Crabby' Today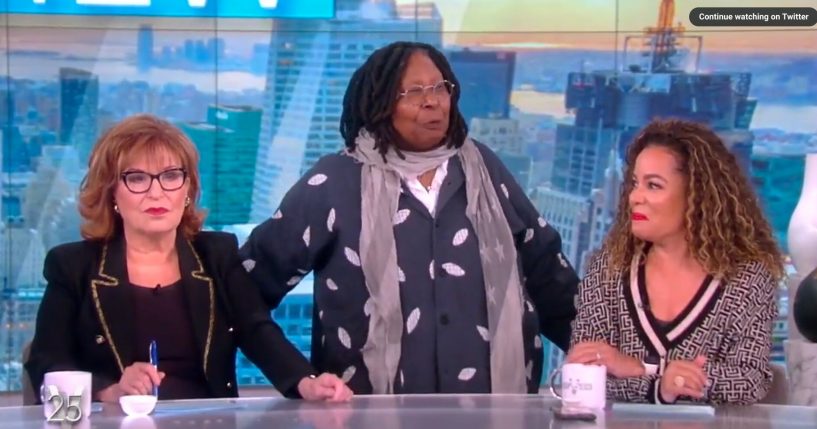 "The View" co-host Whoopi Goldberg took a moment during the show to caution viewers that her fellow panelists were "cranky."
After returning from a break on Wednesday, Goldberg said, "Before we continue, I feel it is important for me to allow the audience to know that today we are seated at a very crabby table."
"Crabby and cranky. Everybody's like, 'What!' This happens from time to time," she continued.
Advertisement - story continues below
Joy Behar chimed in, "We are crabby."
Meanwhile, Sunny Hostin added, "Joy and I are usually the curmudgeons."
She added that she "didn't get much sleep" and was "a bit crabbier than usual."
Watch the video below:
Advertisement - story continues below
.@WhoopiGoldberg with a Wednesday PSA: "I feel it is important for me to allow the audience to know that today we are seated at a very crabby table. Crabby and cranky!" 😂😂😂 pic.twitter.com/uiSONz09rG

— The View (@TheView) April 6, 2022
And Sara Haines said that she was "bonding" with Stephanie Grisham before the show over a "weird headspace" and a lack of sleep.
"When you read the news, it makes you crabby," Behar added.
During a separate segment of the show, the co-hosts clashed over immigration.
Hostin said, "Under U.S. law, a refugee is a person who is unable or unwilling to return to his home country because of various reasons. In this country, once you enter the country, you have a right, a legal right because of our constitution, because of the strength of our laws to ask for asylum."
Advertisement - story continues below
"When you say they're coming in illegally, I take umbrage to that, especially because 14,000 Haitians were expelled under the Biden administration. Especially because 76,000 Afghans were welcomed to this country, which they should have been. And because this administration is willing to take over 100,000 Ukrainians," she added.
Grisham, a former spokesperson for former President Donald Trump, said she agreed with Hostin on her latter point.
PRES. BIDEN ENDING TRUMP-ERA BORDER POLICY: The CDC announced it is officially ending Title 42, the controversial policy restricting migrants from coming into the country under the rationale of a public health risk due to COVID — #TheView panel reacts. https://t.co/PmnXqIGc64 pic.twitter.com/f77cCWhQTQ

— The View (@TheView) April 6, 2022
Hostin then claimed, "It seems to me that the law is okay for some people, but not okay for people that look like me."
Advertisement - story continues below
However, Grisham pushed back and called that argument "low-hanging fruit."
"There are bad people who are also coming into this country. China, knowing our borders are opening, will now have fentanyl come across the borders like crazy and 100,000 people a day," she said.
Behar interjected and asked, "Why does this sound like Fox News?"
"Because I'm a Republican, and I'm sorry about that," Grisham retorted.
Advertisement - story continues below
Behar quipped, "But are you spewing, like, talking points here?"
The segment on immigration comes after the Biden administration announced it will end a policy known as Title 42, which allowed officials to expel most migrants at the border.
The Department of Homeland Security estimates that in a worst-case scenario, after the policy is ended, the country could see as many as 18,000 migrants trying to cross the border per day.
Truth and Accuracy
We are committed to truth and accuracy in all of our journalism. Read our editorial standards.
Comment Down Below
Conversation