Woodward: Travel Restriction on China in January Was Not Trump's Idea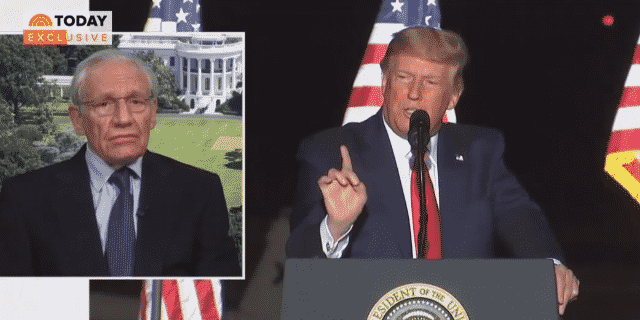 Investigative Journalist Bob Woodward pushed back against President Donald Trump's claim that he faced opposition from public health experts when he restricted travel from China at the beginning of the pandemic.
Woodward touched on the portion of his new book "Rage" where it details what really led to Trump's decision to restrict travel from China.
During an appearance on NBC's "The Today Show," co-host Savannah Guthrie offered a contrast of Trump's claims about the initial travel restriction on China in comparison to the timeline of events detailed in Woodward's book.
Guthrie noted that, according to Woodward, the restrictive policy was recommended to the president in January by some of the Trump administration's top health experts.
Woodward noted that the claim Trump has relied upon as a defense to support his early pandemic response differs drastically from what actually happened.
"It is very different and it is essential to the understanding," he said.
See Woodward's remarks below:
Woodward went on to further explain the details of the travel ban including the flaw in it that, subsequently, contributed to New York state's alarming coronavirus outbreak at the beginning of the pandemic.
"It's not that President Trump banned travel, people coming from China to the United States," Woodward said, adding, "He restricted it, and as we now know, there were some problems and lots of people from China instead of coming to the United States went to Europe and then came into John F. Kennedy airport in New York."
He added, "And that's why there was such a firestorm of a virus in New York City at that time."
When Guthrie asked about Woodward's account of the travel restriction again, he doubled down on his stance. She asked, "Just to put a fine point on it, your book shows that it wasn't the president up against the world but that his advisors actually said, 'You should do this' and he said okay.'"
Woodward said, "Yes, absolutely."
Woodward's remarks about Europe echo New York Gov. Andrew Cuomo's (D) recent argument about the strain of coronavirus that spread throughout his state.
During one of his previous press briefings, Cuomo slammed Trump and blamed him for the spread of coronavirus in New York due to his failure to place restrictions on European travel, as previously reported on IJR.
"It was not the China virus. It was the European virus that came to New York. They missed it. They missed it. The China virus went to Europe. It got on a plane. It went to Europe. They never even thought of the possibility and then three million Europeans got on the plane and came to New York."
"The China virus got on a plane and went to Europe," Gov. Cuomo said. "The European virus came to New York."

"This nation loses more people per day to COVID than any nation on the globe. You know who did that? Donald Trump's incompetence."#Truth 🔥pic.twitter.com/yuu06EWm8D

— Truth Matters (@TruthsOverTrump) September 8, 2020
The United States has reported more than 6.7 million confirmed coronavirus cases, as of Monday morning.
As the death toll approaches 200,000, New York state still has the highest COVID death rate due to the rapid spread of the coronavirus at the onset of the pandemic.