News
Wrestler Born Without Legs Hopes to Make It to the Olympics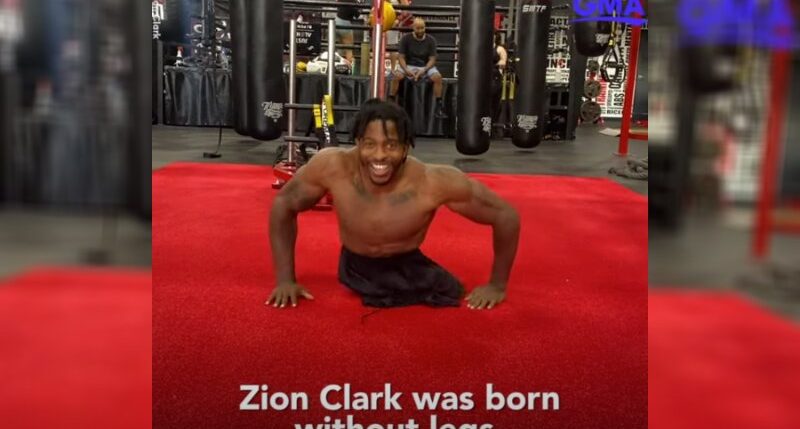 A wrestler born without legs is not letting it stop him from pursuing his passion.
Zion Clark was born with Caudal Regression Syndrome, which is a rare condition where the lower end of the spine develops abnormally, according to Guinness World Records.
It also affects the lower part of the body and also the organs. Only about 1,500 people in the world have this condition, according to the Arizona Department of Economic Security.
Advertisement - story continues below
Clark shared with "Good Morning America" about the difficulties he faced growing up with this condition.
"You know, being the one kid in the school system that doesn't have legs, it made me stick out like a sore thumb. I was kind of looked at like a freak," he said.
He spoke about where his athletic journey began, sharing that he got into sports and wrestling when he was six years old.
Check out the video below:
Advertisement - story continues below
He went on to say that wrestling caused people to not look at him any differently and he actually got to focus on something without being treated like "complete crap."
Clark holds the world record for the fastest 20m walking on hands. In February of 2021, he tested out his abilities for the first in his high school gym and went on to break the record in just 4.78 seconds, according to Guinness World Records.
"Before I knew it, I had crossed the finish line! A rush of euphoria surged through my body as the official timer called out 4.78 seconds," Clark said, Guinness World Records writes.
Clark has big goals ahead of him stating, "I'm working every day to qualify for wrestling in the Olympic games and track and field in the Paralympic games."
Advertisement - story continues below
"Everybody has the ability to turn their weaknesses into strengths and that strength into something special," he said.
God uses our weaknesses for His glory. He tells us in 2 Corinthians 12:9,  "My grace is sufficient for you, for my power is made perfect in weakness." 
Clark also shared some words of wisdom saying, "Every single one of us are different. Don't ever be self-conscious about your appearance."
Speaking about his motivation for the future, Clark said, "I'm going to control what I can control, and aside from that, just keep moving forward."
Truth and Accuracy
We are committed to truth and accuracy in all of our journalism. Read our editorial standards.
Comment Down Below
Conversation