News
Andrew Yang Doubles Down on Remarks About Mentally Ill After Backlash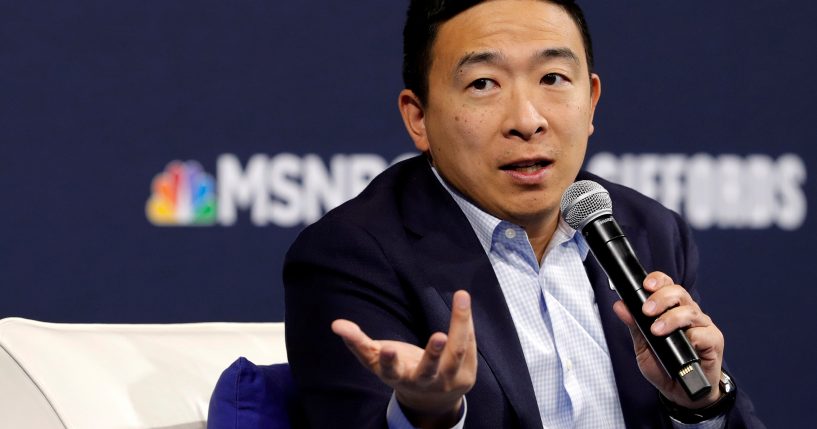 New York City mayoral candidate Andrew Yang (D) is doubling down on his remarks regarding getting mentally ill people off of the streets of New York City.
On John Catsimatidis's radio show Monday, the host said there are too many people living on the streets rather than in hospitals. He also suggested that the situation in New York City was better when Rudy Giuliani was the mayor, according to The New York Times.
"One-hundred percent," Yang replied, adding, "We need to get them the care that they need, but that will also supercharge our economic recovery because we all see these mentally ill people on our streets and subways, and you know who else sees them? Tourists. And then they don't come back, and they tell their friends, 'Don't go to New York City.'"
Advertisement - story continues below
Yang, a former presidential candidate, continued, "We're never going to get our jobs back and our economy back if we don't get the mentally ill people who are on our streets in a better environment."
Later Monday while at an event with fellow candidate Kathryn Garcia, Yang stood by his remarks to Catsimatidis, according to the Times.
"We all know that public safety is top of mind for New Yorkers," Yang said. "There will not be an economic recovery until people feel safe walking our streets and walking our subways."
John Catsimatidis told Andrew Yang on his radio show that he agrees with Giuliani that the mentally ill need to be in hospitals.
Yang says "100 percent" and it's the only way to "supercharge our economic recovery" because tourists won't come back if they see them on the streets.

— Emma G. Fitzsimmons (@emmagf) June 21, 2021
Advertisement - story continues below
During the final mayoral debate, Yang said, "Mentally ill homeless men are changing the character of our neighborhoods. … We need to get them off of our streets and subways and into a better environment."
He also said, "Yes, mentally ill people have rights. But you know who else have rights? We do! The people and families of the city. We have the right to walk the street and not fear for our safety."
Yang received criticism for his remarks, including from Brooklyn Borough President Eric Adams, one of his mayoral opponents.
"All of us know someone that is dealing with a mental health issue and for him to demonize them and to feel as though they are going to further criminalize them, that is the wrong mindset," Adams said.
Watch: Andrew Yang's response to a question about how he would handle mental health during Wednesday's NYC mayoral debate drew fire on social media from people who said it lacked empathy or understanding. https://t.co/frKMJ3naJf pic.twitter.com/g9VKD1CoX5

— The New York Times (@nytimes) June 17, 2021
Advertisement - story continues below
The Coalition for the Homeless states that in April 2021 there were 53,199 homeless people in New York City's municipal shelter system. This includes 16,390 children.
Homelessness is a "chronic struggle" in New York City, as the Times reports.
Noting the issue is complicated, the Times adds, "Homeless people are not involved in every unsettling incident, and they also have been targeted in vicious killings and other attacks. Their advocates warn against demonizing a large group of people who are struggling just to survive. Most of the 48,000 people in the main shelter system are families with children, not single men."
According to the publication, the leading Democratic candidates have proposed plans to address the homeless problem. These include "[reducing] or [ending] reliance on congregate shelters," "[building] more 'deeply affordable' housing — a lot more," "[getting] more people into psychiatric treatment," "[adding] psychiatric beds," among others.
Advertisement - story continues below
On Tuesday, voters are heading to the polls to vote in the city's Democratic mayoral primary.
Today is Primary Election Day in New York City, and voters are making history when they fill out their ballots. The top contest is the Democratic party's race for mayor. The winner will become the overwhelming favorite to be elected in November.@EdOKeefe is covering this. pic.twitter.com/cI7IHYfvb0

— CBS This Morning (@CBSThisMorning) June 22, 2021
Adams is in the lead, according to polls. However, there are four top contenders.
Truth and Accuracy
We are committed to truth and accuracy in all of our journalism. Read our editorial standards.
Conversation