News
10-Year-Old Tom Brady Fan, Cancer Survivor Has Message of Thanks for QB After Unexpected Gift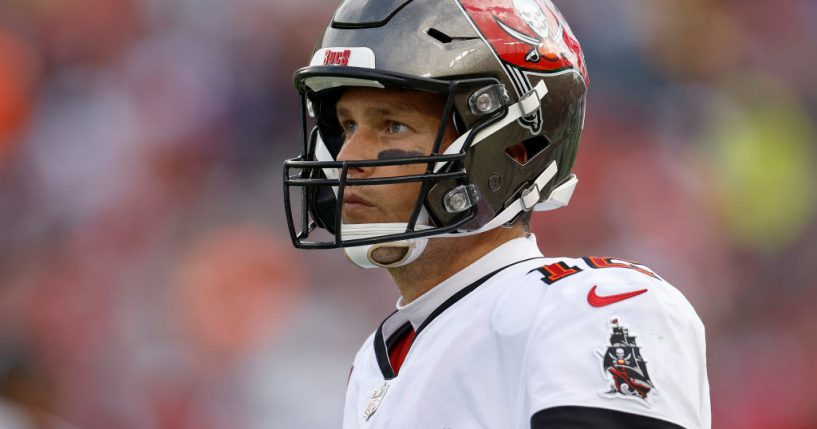 Noah Reeb is a ten-year-old cancer survivor and an enthusiastic Tom Brady fan. James Reeb, his father, was the first person to spark his son's interest in the game of football. Sharing highlight reels with Noah was a source of enjoyment for both of them during his treatment.
After the young boy beat cancer, James Reeb treated his son to a football game in October of 2021. At the Buccaneers-Bears game, Noah Reeb boldly held up a sign that read, "Tom Brady helped me beat brain cancer."
Noah Reeb credited Brady, on "Fox & Friends," for helping uplift him throughout his tough battle with cancer.
Advertisement - story continues below
"He's helped me in a lot of ways," he said. "He's kind of been my hero all along through this whole cancer thing."
During the game, the quarterback noticed the sign and passed the young survivor his hat. That was just the start of many surprises to come. Brady sent a video to Noah Reeb, revealing that he and his family would be attending the 2022 Superbowl game in Los Angeles.
"You've inspired so many people, including myself," Brady said. "I worked with both the Bucs and the NFL to get your and your family Super Bowl tickets this year… We certainly hope to be there, but I know you're going to be there. It's going to be really cool for all of us."
"All we've been doing is kind of taking all of this cancer and this challenge one step at a time and using our faith and trusting that good things will happen," James Reeb said, about his son's inspiring journey. "And as Noah says, lots of times good comes out of bad. So it's meant the world to us."
Advertisement - story continues below
.@TomBrady surprised 10-year-old brain cancer survivor Noah Reeb with Super Bowl tickets. This is what it's all about ❤️ pic.twitter.com/Qo6QdjM1qI

— NFL (@NFL) January 15, 2022
Noah Reeb's story is such a good reminder of how God tells us in Romans 8:28 that He will work all things together for the good of those who love him and are called according to His purpose for them.
Because we live in a fallen, sinful world, we will experience suffering. There will be trials that we will have to face, like sickness and diseases, but through that darkness there is a light at the end of the tunnel, when we have Jesus Christ.
Truth and Accuracy
We are committed to truth and accuracy in all of our journalism. Read our editorial standards.
Comment Down Below
Conversation