News
Major Late-Night Shows to Go Dark Amid Screenwriter Strike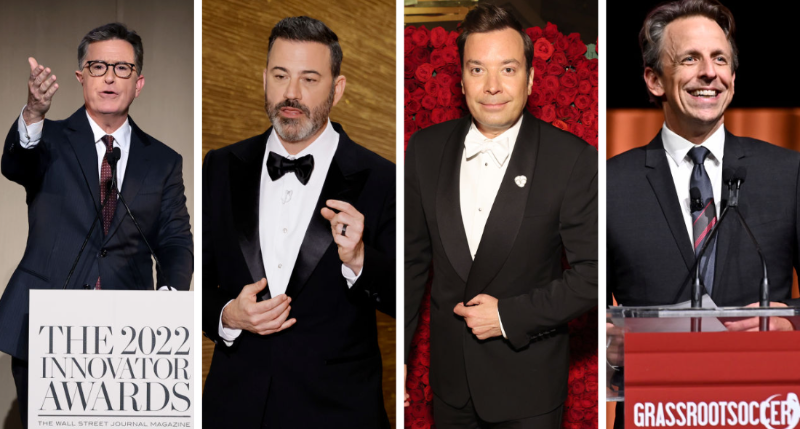 Major late-night shows are stopping production and will not air new content as thousands of Hollywood writers are going on strike.
"The Late Show with Stephen Colbert," "The Tonight Show Starring Jimmy Fallon," and "Jimmy Kimmel Live!" will not air new shows starting Tuesday night.
Additionally, "Late Night with Seth Meyers" and "The Daily Show" will not air new shows.
Advertisement - story continues below
Most of the programs are expected to air re-runs during the strike.
Deadline noted, "Weekly shows as 'Saturday Night Live,' 'Real Time with Bill Maher' and 'Last Week Tonight with John Oliver' will be similarly impacted. The two HBO shows will shut down, although a final decision on SNL is expected to come later in the week.
Jimmy Fallon, Jimmy Kimmel, Stephen Colbert and Seth Meyers' late-night shows will shut down production on Tuesday as Hollywood writers have agreed to go on strike. pic.twitter.com/qu8SVJ82tG

— Pop Base (@PopBase) May 2, 2023
Conservatives mocked the news on Twitter:
Advertisement - story continues below
This is the first time I can remember supporting a strike. In fact, I hope the strike continues forever. https://t.co/efYoRxzR5X

— Ben Shapiro (@benshapiro) May 2, 2023
Interesting that none of these star hosts are funny enough on their own to write their own show. Isn't that weird? https://t.co/DxFoamDrza

— David Hazony (@davidhazony) May 2, 2023
Will you miss their shows?
I look forward to Chat-GPT filling in for their writers without anyone noticing. https://t.co/c8oHTDGL5C

— Jacob Roth (@RothThePatriot) May 2, 2023
The six people that watch their shows will be devastated.

— Jeremy Marsh (@JZMarsh79) May 2, 2023
And nobody will miss them

— 🤘🏻That Astros Guy🤘🏻 (@cpenny81) May 2, 2023
Advertisement - story continues below
Read the comments on this, literally nooooooooo one cares. 🔥😂

When people wake up, they reject this garbage and they never go back. The only reason these guys were still on TV is that propaganda is well funded. https://t.co/Lz145jaJ12

— The Kate Awakening (@kate_awakening) May 2, 2023
What a win for America https://t.co/oj1PTsPWH1

— Jake Crain (@JakeCrain_) May 2, 2023
As NBC News noted, "Thousands of unionized scribes who say they are not paid fairly in the streaming era went on strike early Tuesday, bringing television production to a halt."
Advertisement - story continues below
"It comes after high-stakes negotiations between a top guild and a trade association representing Hollywood's marquee studios failed to avert the first walkout in more than 15 years," it added.
Podcast host Jake Crain wrote on Twitter, "What a win for America." Another Twitter user wrote, "And nobody will miss them."
The board of directors for the Writers Guild of America voted unanimously for the walkout.
In a statement, the union said, "The companies' behavior has created a gig economy inside a union work force, and their immovable stance in this negotiation has betrayed a commitment to further devaluing the profession of writing."
Truth and Accuracy
We are committed to truth and accuracy in all of our journalism. Read our editorial standards.
Comment Down Below
Conversation