News
5 Pieces of Hunter Biden's Art Reportedly Sell for $75,000 Each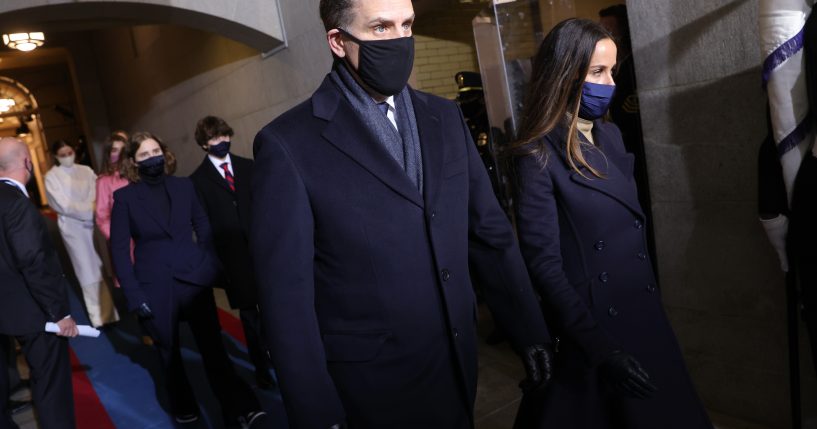 Hunter Biden, son of President Joe Biden, reportedly sold five of his art pieces for $75,000 each.
The New York Post reported on Thursday the Georges Berges Gallery sold the prints ahead of the October 1 debut of a "pop up" presentation in Los Angeles, citing a source familiar with the matter.
The outlet noted it is unclear who bought the art or whether there were more sold after the opening of the show. The source told the Post, "Most of those allowed to buy works are long-term, private collectors with the gallery, people that Berges knows personally."
Advertisement - story continues below
According to the source, "It is a whole process to get in to see the Biden show. You have to call the gallery in Soho, and they are vetting people carefully."
The source added, "They laid down rules that thorough vetting of any collector has to be done by a team of lawyers."
The individual also said the New York City show has been delayed until the spring. The show in Los Angeles will continue through November, as the Post reports.
This is the "art" Hunter Biden is selling for $500,000 pic.twitter.com/MHd8c9SRVi

— Kyle Martinsen (@KyleMartinsen_) October 5, 2021
Advertisement - story continues below
Some have expressed concern over Hunter Biden's art career. Former Obama administration director of the Office of Government Ethics, Walter Shaub, told CNN Hunter Biden's art career could create the "perfect mechanism for funneling bribes."
Shaub also suggested the art industry is "notorious for money laundering."
In July, White House Press Secretary Jen Psaki defended Hunter Biden's art career.
"Well, I can tell you that after careful consideration, a system has been established that allows for Hunter Biden to work in his profession within reasonable safeguards," she said.
Psaki added, "Of course, he has the right to pursue an artistic career, just like any child of a President has the right to pursue a career."
Advertisement - story continues below
She claimed, "All interactions regarding the selling of art and the setting of prices will be handled by a professional gallerist, adhering to the highest industry standards. And any offer out of the normal course would be rejected out of hand."
Truth and Accuracy
We are committed to truth and accuracy in all of our journalism. Read our editorial standards.
Comment Down Below
Conversation