News
Gov. Abbott Accuses Biden of 'Spreading Misinformation' on Voting Bill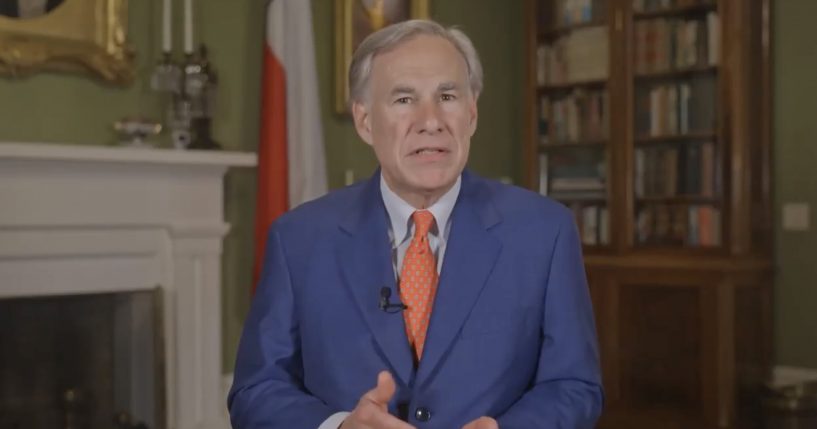 Texas Gov. Greg Abbott (R) is accusing President Joe Biden of "spreading misinformation" on the state's voting bill.
Abbott took to Twitter on Tuesday to post a video pushing back against Biden's claims about the bill.
"Now President Biden is calling Texas names again. This time he is chastising us for making it easy to vote but hard to cheat. Once again, President Biden ignores the facts," Abbott said.
Advertisement - story continues below
He continued, "The fact is that Texas is passing a law that expands — not reduces — the hours of early voting. That's more than many states, including President Biden's home state of Delaware, which has zero hours of early voting."
Abbott also claims the law helps prevent mail-in ballot fraud in Texas.
"It will uphold the integrity of our elections and ensure that Texans who do qualify to vote by mail will have the ability to do so," Abbott explained.
He added, "President Biden and the Democrats must stop the misinformation."
Advertisement - story continues below
Check out the video below:
Biden has a pattern of spreading misinformation & he's at it again today.

The #txlege is passing a law that EXPANDS early voting hours & prevents mail-in ballot fraud.

Texas is making it EASIER to vote & harder to cheat. pic.twitter.com/DGTob0obYc

— Greg Abbott (@GregAbbott_TX) July 13, 2021
Is Biden spreading misinformation?
During his speech on voting rights on Tuesday, Biden slammed Republican voting restrictions, as IJR reported.
"The 21st century Jim Crow assault is real. It's unrelenting. And we're gonna challenge it vigorously," Biden said.
Abbott's comments come just days after dozens of Texas House Democrats fled the state to block the voting bill. Both the House and Senate bills would add new identification requirements to vote-by-mail and prohibit local election officials from sending unsolicited mail-in ballot applications to eligible voters.
Advertisement - story continues below
The bills would also provide partisan poll watchers with more access to voters and polling places. Under the bills, election workers would have a more difficult time removing poll watchers for violating election law.
Additionally, the bills would ban the type of drive-thru voting that was used in the 2020 election at 10 polling places in one county. Twenty-four-hour voting at polling places would also be banned. Both bills would regulate early voting hours. An extra hour of required early voting hours for local elections would be added, but expanded early voting hours would be prevented.
The Texas state Senate voted along party lines to pass the sweeping elections bill on Tuesday, as The Hill reports.
Abbott told Fox News on Monday the lawmakers who fled the state will be arrested upon return and "brought back to the Texas Capitol and we will be conducting business."
Truth and Accuracy
We are committed to truth and accuracy in all of our journalism. Read our editorial standards.
Comment Down Below
Conversation