News
Afghan Journalist Overcome With Emotion While Questioning Pentagon Spox on Taliban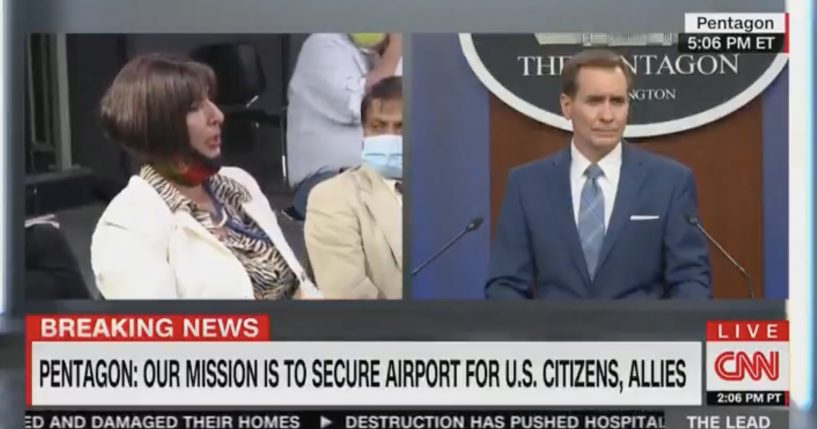 Afghan journalist Nazira Karimi grew emotional while questioning Pentagon spokesman John Kirby about the Taliban, telling him "everybody's upset."
During a White House press briefing on Monday, Karimi said to Kirby, "I'm very upset today, because Afghan women didn't expect that overnight all the Taliban came. They took off my flag."
She added, "And they put their flag. Everybody's upset, especially women, and I forgot my question."
Advertisement - story continues below
After gathering her thoughts, Karimi asked Kirby, "Where is my president, former President Ghani? People expected that he would stand by with the people. And immediately, he ran away… President Biden said that President Ghani knows he has to fight for us people… But we don't have any president, we don't have anything."
She continued, "The Afghan people, they don't know what to do."
Karimi explained how Afghan women had "a lot of achievement in Afghanistan. I had a lot of achievement. I left from the Taliban, like 20 years ago. Now we go back to the first step again."
Watch part of the briefing below:
Advertisement - story continues below
Whoa.

Watch this Afghan reporter break down in a very emotional question about the safety and future of Afghani women to Pentagon Spokesman John Kirby. pic.twitter.com/OezkGLq55R

— Townhall.com (@townhallcom) August 16, 2021
When asked if he had any comment, Kirby replied, "I obviously can't speak for Ashraf Ghani or where he is or what his views are. I wouldn't do that but let me say with all respect that I understand, and we all understand the anxiety and the fear and the pain that you're feeling. It's clear, and it's evident."
He went on, "Nobody here at the Pentagon is happy about the images that we've seen coming out in the last few days and we're all mindful of the kind of governance that the Taliban is capable of. So, heartfelt respect to what you're going through."
President Joe Biden defended his decision to withdraw U.S. troops from Afghanistan during a speech at the White House on Monday, as IJR reported.
"I stand squarely behind my decision. After 20 years, I've learned the hard way, that there was never a good time to withdraw U.S. forces," he said.
Truth and Accuracy
We are committed to truth and accuracy in all of our journalism. Read our editorial standards.
Comment Down Below
Conversation