News
Amber Heard's Friend Shares Why She Believes Women 'Hate' Her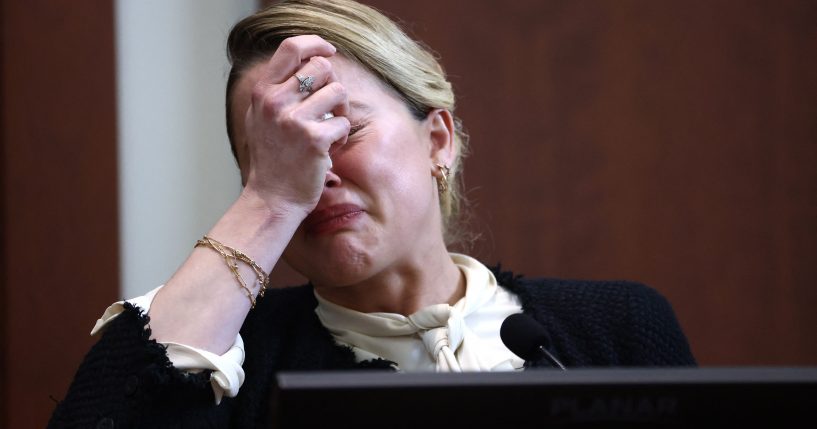 A close friend of Amber Heard slammed women who "hate" her, saying they have "low self-esteem."
A Twitter user wrote, "I was invited to speak on a podcast about Depp v Heard. The interviewer said that many of Depp's supporters are women and they hate Amber Heard. I'm seeing the hatred of women and antifeminist views rising amongst women. Do women hate other women? And if you think they do, why?"
Eve Barlow, a music journalist, replied, "It's easy for women with low self-esteem to hate AH or justify their prejudice towards archetypal feminine strength/beauty by denying their envy of it."
Advertisement - story continues below
She added, "They perceive an afforded power that's truly a myth, and excuse their own inefficiency at being resilient against misogyny."
It's easy for women with low self-esteem to hate AH or justify their prejudice towards archetypal feminine strength/beauty by denying their envy of it. They perceive an afforded power that's truly a myth, and excuse their own inefficiency at being resilient against misogyny.

— Eve Barlow (@Eve_Barlow) May 10, 2022
Barlow argued, "AH had to fight for her life, despite her position and assumed privileges. She still wasn't afforded a savior."
She claimed it is "much easier to get behind a woman who plays the damsel in distress than it is to empathize with a woman who has had to liberate herself."
Advertisement - story continues below
AH had to fight for her life, despite her position and assumed privileges. She still wasn't afforded a savior. It's much easier to get behind a woman who plays the damsel in distress than it is to empathize with a woman who has had to liberate herself.

— Eve Barlow (@Eve_Barlow) May 10, 2022
Actor Johnny Depp is suing his ex-wife, accusing her of defaming him in a 2018 op-ed published by The Washington Post.
In it, she described herself as "a public figure representing domestic abuse."
USA Today points out the article does not specifically name Depp, but his lawyers argue he was defamed because it refers to abuse allegations Heard made in 2016.
On the stand, Depp stressed he "never struck Ms. Heard in any way, nor have I ever struck any women in my life."
Advertisement - story continues below
During Heard's testimony, she detailed an incident she claimed took place after the Met Gala in May 2014.
"Johnny shoves me and grabs me by the collarbone area," Heard said.
She continued, "He threw a bottle at me. It missed me, but it hit the chandelier … At some point, he just whacked me in the face."
Heard explained she "was unsure what that feeling was but I suspected I had a broken nose."
Advertisement - story continues below
She added, "And other than that I remember my nose being swollen in discolored."
The trial will resume on May 16.
Truth and Accuracy
We are committed to truth and accuracy in all of our journalism. Read our editorial standards.
Comment Down Below
Conversation