Amy Klobuchar Argues 'We Are Not Safe in Donald Trump's America'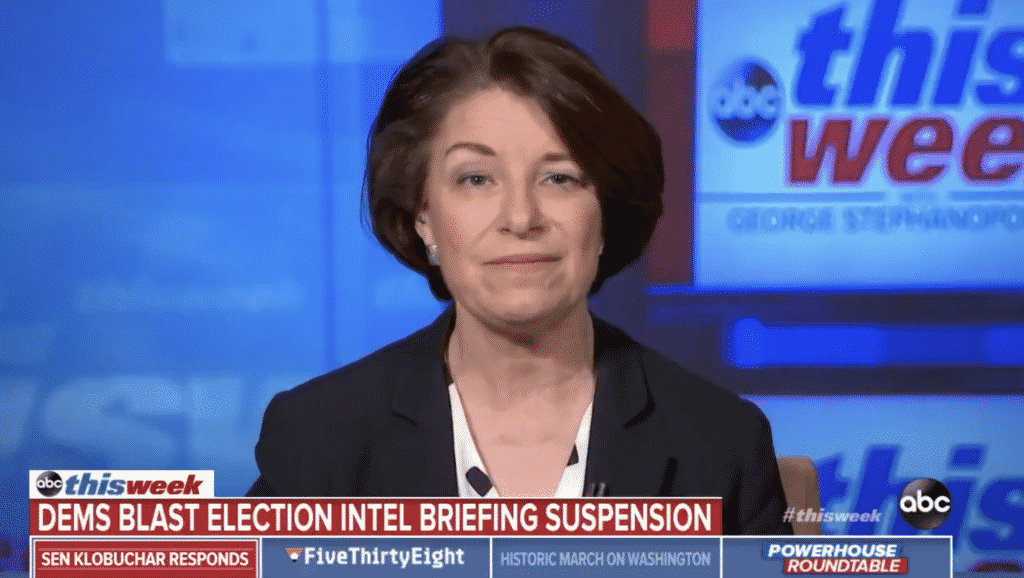 President Donald Trump is receiving harsh criticism from Sen. Amy Klobuchar (D-Minn.) for his leadership amid the coronavirus pandemic and racial unrest.
ABC's Jon Karl mentioned the encounter Trump supporters had with protesters as they left the White House after the Republican National Convention.
He pivoted to Trump's comments he made about the incident at a rally in New Hampshire on Friday.
Trump detailed the experience of his supporters as they were confronted with "a bunch of thugs" and stressed they did not encounter "friendly protesters."
Karl asked Klobuchar for her reaction.
"I have long condemned looting, violence, threats. That's not peaceful protest, and I don't care who's engaging in it, you condemn it," Klobuchar said.
Check out her remarks below:
"I have long condemned looting, violence, threats," Sen. Amy Klobuchar tells @jonkarl when asked about Trump supporters confronted, intimidated by protesters.

"It is happening under Donald Trump's watch … we are not safe in Donald Trump's America." https://t.co/V69o5R5pes pic.twitter.com/CpUpJFDkfX

— ABC News Politics (@ABCPolitics) August 30, 2020
She stressed violence is not happening in one place; it is happening all across the nation and under the president's watch.
Klobuchar went on to note the shootings of George Floyd and those of Jacob Blake and other protesters in Kenosha.
"And then we have a president that literally stands on the people's lawn, in violation of the Hatch Act, stands on the lawn with a bunch of pageantry and a bunch of fancy clothes with arias playing from the balcony and says, 'Oh do you want to be more safe?'" Klobuchar said.
She added, "We are not safe in Donald Trump's America."
Klobuchar attributed the increase in the number of hate crimes and coronavirus related deaths to Trump's leadership.
Karl went on to question Klobuchar about what a Biden, Harris administration would like in response to these issues.
She said the first thing is to make it known Democrats condemn looting and violence.
The second being putting forth solutions to bring Americans together.
The final thing, according to Klobuchar, is police reform.
"I see it as something we can do together, but not with him as president, not with the kind of rhetoric we hear from him," she said.