News
Ana Navarro Spars With Sunny Hostin Over Why She Is Still a Republican: 'Why Are You Still a Catholic?'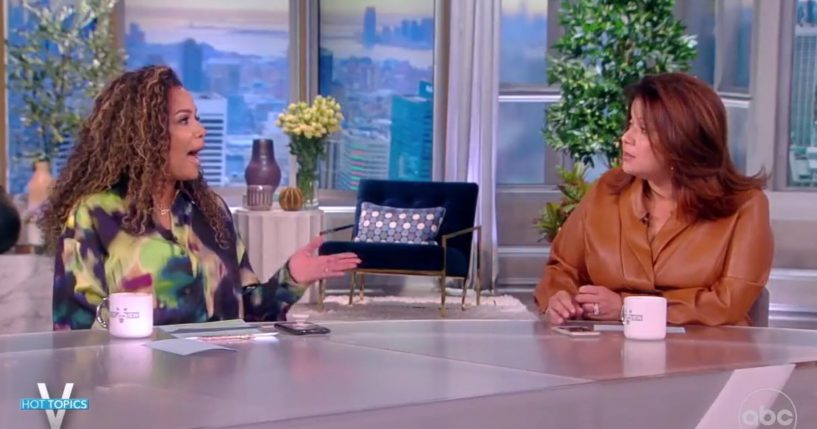 "The View" co-hosts Ana Navarro and Sunny Hostin went back and forth over why Navarro is still a Republican.
During an episode of the show Friday, Navarro shot back, "Why are you still a Catholic? You don't agree with everything about the Catholic Church."
Hostin explained, "Yes, but the Catholic Church did not try to destroy democracy in this country. That's very, very different. We're talking about a political party that doesn't even exist anymore."
Advertisement - story continues below
Navarro continued, "What party was Abraham Lincoln? Who helped pass the [National] Voter Registration Act the first time?"
Hostin argued that the Republican Party Navarro loves "doesn't exist anymore."
She added, "It's the party of insurrectionists. It's the party of traitors … white supremacists. It's not the party that you loved. It's not."
Navarro went on to tell Hostin that "no matter how much you want it to happen, the Republican Party is not going to disappear."
Advertisement - story continues below
According to Navarro, "What we need to do is have two strong, healthy parties competing for your vote and my vote."
Hostin suggested Navarro is the "only non-loca in the party at this point."
Guest co-host Chelsea Clinton chimed in, asking Navarro, "When are you running?"
She responded, "I have zero intention of running, but I'm not the only non-loca. There's a lot of people who are supporting people like Liz Cheney, like Mitt Romney, like Adam Kinzinger."
Check out the exchange below:
Advertisement - story continues below
WATCH via @TheView: @ananavarro fires back at @sunny who asks why she's still a Republican: "Why are you still a Catholic?" pic.twitter.com/577FLRKD20

— Jackson Richman (@jacksonrichman) April 1, 2022
In November 2021, co-host Joy Behar asked Navarro if she was still a Republican after discussing former President Donald Trump's lack of concern for former Vice President Mike Pence during the January 6 riot at the U.S. Capitol.
"Yes, I'm still in that party. I'm not going to let a guy who was a Democrat, an Independent — who became a Republican just a few years ago — kick me out," Navarro said.
She added, "I'm not going to be kicked out by a person that has no ideology, no principals, and no convictions. I'm not going anywhere!"
Truth and Accuracy
We are committed to truth and accuracy in all of our journalism. Read our editorial standards.
Comment Down Below
Conversation