News
Angelina Jolie Shares Where Her Daughter Will Be Attending College, Does Electric Slide Dance at Send-Off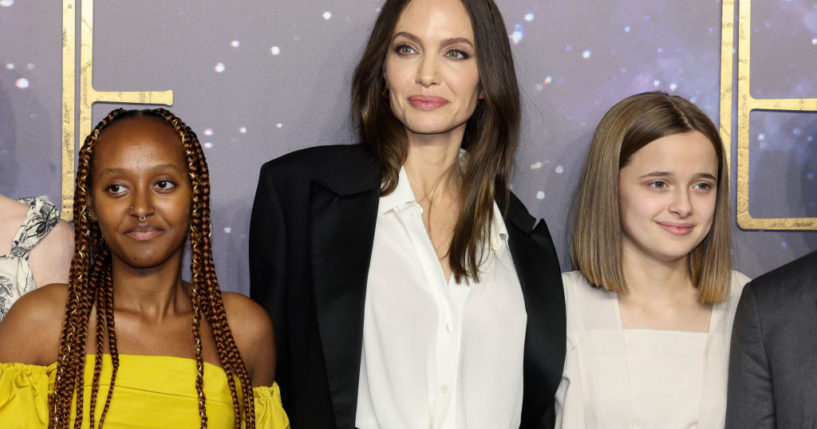 Actress Angelina Jolie's eldest daughter, Zahara, will be heading to college in the fall, and the actress can be seen celebrating with some dance moves.
The 17-year-old will be attending Spelman College in Atlanta, Georgia.
"Spelman College, a historically Black college and a global leader in the education of women of African descent, is dedicated to academic excellence in the liberal arts and sciences and the intellectual, creative, ethical, and leadership development of its students," per the college's website.
Advertisement - story continues below
Spelman is also the most selective women's college in the nation, with attendees such as author Alice Walker and actress Keshia Knight Pulliam, according to The Classroom.
Jolie has publicly expressed her full support for her daughter.
On Sunday, she posted a photo on her Instagram of Zahara with her "Spelman Sisters."
"Congratulations to all new students starting this year. A very special place and an honor to have a family member as a new Spelman girl," she captioned the photo.
Advertisement - story continues below
Jolie is also seen doing the Electric Slide and laughing in a video where she attended a back-to-school event at Spelman College along with her daughter.
Jolie, who is a mother of six, adopted Zahara from Ethiopia in 2005. Her former husband, Brad Pitt, also traveled with her.
According to People, Jolie and Pitt filed for divorce in 2016, after two years of marriage.
1 Timothy 4:12 says, "Let no one despise you for your youth, but set the believers an example in speech, in conduct, in love, in faith, in purity."
Advertisement - story continues below
In a 2020 interview with Time 100 Talks, Jolie praised her daughter saying, "My daughter is from Ethiopia, one of my children. … And I have learned so much from her. She is my family, but she is an extraordinary African woman and her connection to her country, her continent, is her own and it's something I only stand back in awe of."
Truth and Accuracy
We are committed to truth and accuracy in all of our journalism. Read our editorial standards.
Comment Down Below
Conversation