News
Angelina Jolie Goes to Capitol Hill to Push for Renewal of Violence Against Women Act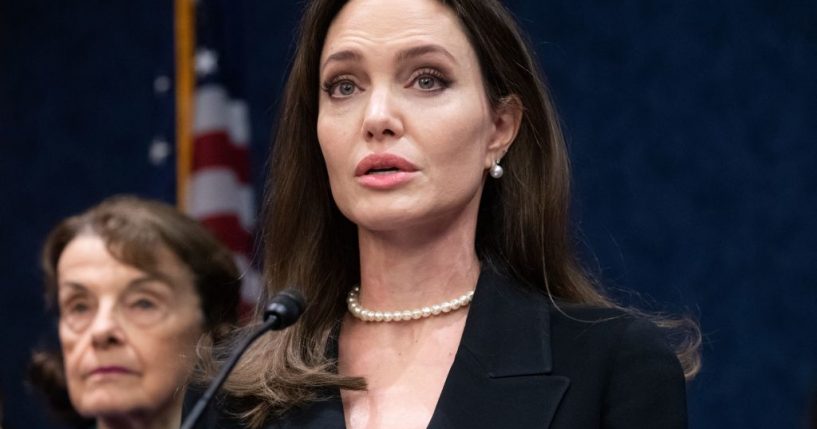 Actress Angelina Jolie became emotional Wednesday as she and senators appeared on Capitol Hill and announced a plan to bring forth the reauthorization of the "Violence Against Women Act."
Jolie's goal was to push senators to move this legislation forward. She told them on Wednesday that it would be "one of the most important votes you'll cast in the Senate."
In this sinful world, we will have to endure suffering, and sometimes it will be through other people. But like the Bible shows us, Romans 5:3-5 says, "Not only so, but we also glory in our sufferings, because we know that suffering produces perseverance; perseverance, character; and character, hope. And hope does not put us to shame, because God's love has been poured out into our hearts through the Holy Spirit, who has been given to us."
Advertisement - story continues below
The Violence Against Women Act, signed by Bill Clinton in 1994, "creates and supports comprehensive, cost-effective responses to domestic violence, sexual assault, dating violence and stalking," as the National Network to End Domestic Violence (NNEDV) puts it.
As ABC News reports, "The law lapsed in 2018 due to Republican opposition to some added provisions, including protections extended to transgender individuals and efforts to close the so-called 'boyfriend loophole,' which refers to federal law that bars domestic violence abusers from obtaining guns but only applies to current or former marital spouses, current or former cohabitants or someone who shares a child with the victim."
In response to this, Senate Judiciary Chair Dick Durbin (D-Ill.) called the bill "a compromise":
Advertisement - story continues below
"Our bill is a compromise. It doesn't include everything Senator Feinstein and I wanted or everything Senator Ernst and Murkowski wanted. And there are provisions that all four of us very much wanted to include such as an end to the loophole that allows abusers who harm dating partners to continue to have access to guns. But we agreed that we had to introduce a bill that would both deliver the critical assistance survivors across America need and achieve the necessary bipartisan support and pass the Senate."
President Joe Biden made a statement on Wednesday applauding the lawmakers for introducing the bill and urged "the Senate to move quickly to get this passed."
"I am grateful that this critical bipartisan bill is moving forward, and I look forward to Congress delivering it to my desk without delay," he said.
Biden also played an important role in the original passing of the bill. He made a statement last year urging lawmakers to reauthorize the "Violence Against Women Act," which he called "one of the legislative accomplishments of which I'm most proud."
On Wednesday, the president continued to stress the importance of this bill saying, "combatting domestic violence, sexual assault, dating violence, and stalking should not be a Democratic issue or Republican issue. It's a matter of justice and compassion."
Advertisement - story continues below
It is unclear whether the bill has the 60 votes to pass in the Senate, even though there was an agreement.
Truth and Accuracy
We are committed to truth and accuracy in all of our journalism. Read our editorial standards.
Comment Down Below
Conversation