News
'Answering to Big Donors': 5 Veterans Quit Sinema's Advisory Council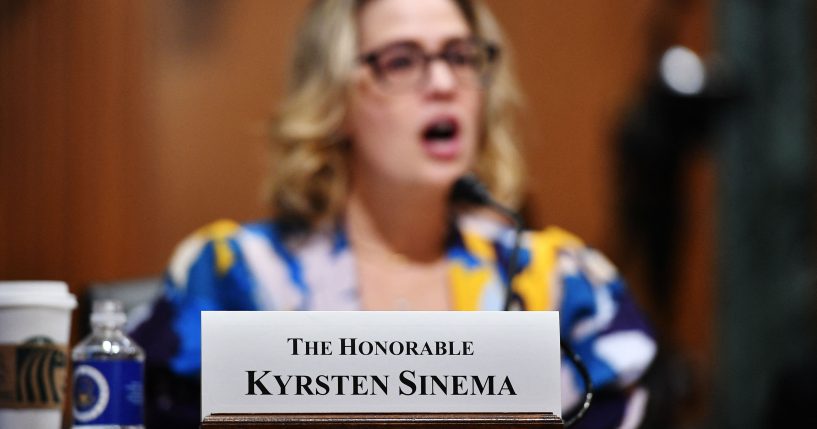 Five veterans picked to serve on Sen. Kyrsten Sinema's (D-Ariz.) advisory council have resigned from their positions, calling her an obstacle to progress.
According to a letter obtained by The New York Times, the veterans criticized Sinema for refusing to abolish the filibuster and opposing parts of President Joe Biden's agenda.
"You have become one of the principal obstacles to progress, answering to big donors rather than your own people," the veterans wrote in the letter.
Advertisement - story continues below
The letter will reportedly be featured in an advertisement by Common Defense, an activist group made up of progressive veterans critical of Sinema.
They added, "We shouldn't have to buy representation from you, and your failure to stand by your people and see their urgent needs is alarming."
The outlet noted the five veterans have served on Sinema's advisory council since 2019.
Sylvia Gonzalez Andersh is one of veterans who signed the letter and criticized Sinema during an interview, as the Times reports.
Advertisement - story continues below
"Democrats were out desperately trying to help her win the seat, and now we feel like, what was it for?" Andersh said. "Nobody knows what she is thinking because she doesn't tell anybody anything. It's very sad to think that someone who you worked for that hard to get elected is not even willing to listen."
In a statement to the Times, Sinema said she would "always remain grateful for these individuals' service to our nation."
She continued, "While it is unfortunate that apparent disagreement on separate policy issues has led to this decision… I thank them for their service and will continue working every day to deliver for Arizona's veterans who have sacrificed so much to keep us safe and secure."
Sinema has recently faced pressure from protesters over her opposition to parts of Biden's agenda. Earlier this month, protesters followed the senator into the bathroom at Arizona State University to confront her on the issues, as IJR reported.
She later addressed the incident in a statement, saying it was "unacceptable" and "unlawful."
Truth and Accuracy
We are committed to truth and accuracy in all of our journalism. Read our editorial standards.
Comment Down Below
Conversation