AOC, Jerry Nadler, and 7 NY House Dems Call on NY Gov. Cuomo To Resign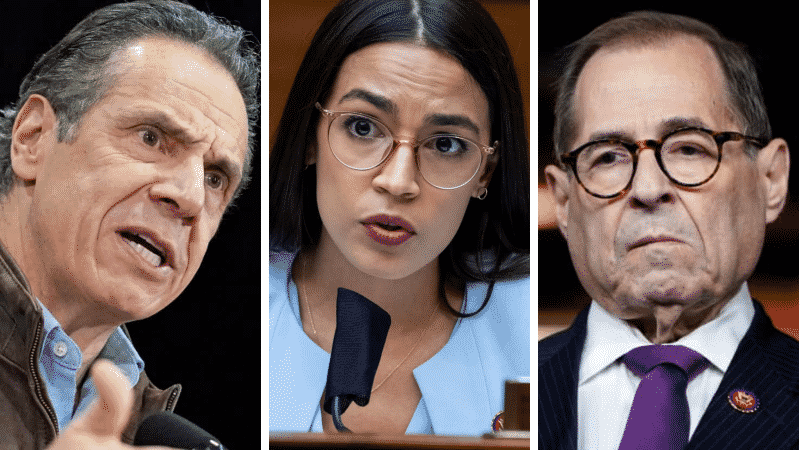 New York Gov. Andrew Cuomo (D) is facing several calls to resign, and now that includes from Rep. Alexandria Ocasio-Cortez (D-N.Y.) and House Judiciary Committee Chairman Jerry Nadler (D-N.Y.).
Calls are mounting for Cuomo to resign over allegations of sexual harassment.
In a statement Friday, Nadler applauded the "bravery" of those who came forward "to share their experiences" with Cuomo, deeming it "inspiring."
"I stand with them in support," he said. "The repeated accusations against the Governor, and the manner in which he has responded to them, have made it impossible for him to continue to govern at this point."
Nadler noted that Cuomo is "guaranteed due process under law." He also called the accusations "credible " and "the charges against him are serious indeed."
New York Attorney General Letita James is leading an investigation into the sexual harassment allegations. Cuomo is facing six allegations of sexual harassment.
Nadler continued:
"But there is a difference between formal investigations that may end in criminal charges and a question of confidence in our political leadership. The question before us is squarely a political judgment."
"Governor Cuomo has lost the confidence of the people of New York," Nadler added. "Governor Cuomo must resign."
Check out Nadler's statement below:
Read my statement calling for the resignation of Governor Andrew Cuomo. pic.twitter.com/JyZntu9HJS

— Rep. Nadler (@RepJerryNadler) March 12, 2021
On Thursday, New York City Mayor Bill de Blasio (D) called on Cuomo to no longer be governor.
"The specific allegation that the governor called an employee of his, someone who he had power over, called them to a private place and then sexually assaulted her, it's absolutely unacceptable," de Blasio said. "It is disgusting to me, and he can no longer serve as governor."
Nine House Democrats, who are from New York, including Nadler, issued calls for Cuomo to resign on Friday.
After two accounts of sexual assault, four accounts of harassment, the Attorney General's investigation finding the Governor's admin hid nursing home data from the legislature & public, we agree with the 55+ members of the New York State legislature that the Governor must resign. pic.twitter.com/jV5dwtuVPr

— Alexandria Ocasio-Cortez (@AOC) March 12, 2021
Citing the sexual harassment allegations as well as the report that the Cuomo administration "hid date on COVID-19 nursing home deaths from both the public and the state legislature," Ocasio-Cortez and Rep. Jamaal Bowman (D-N.Y.) said, "Governor Cuomo can longer effectively lead in the face of so many challenges."
Cuomo has denied sexual harassment allegations.