News
Biden Lists 4 Ways He Plans to Respond to Rising Gas Prices 'Because of Putin's Price Hike'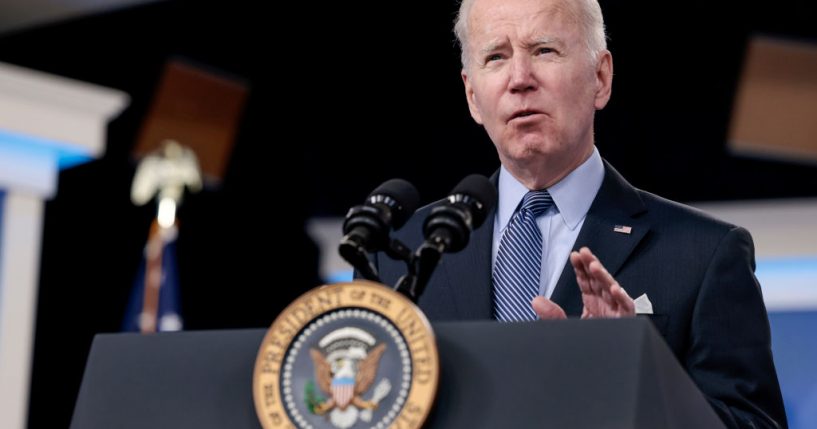 President Joe Biden is laying out a multi-pronged plan to address gas prices which have soared after Russian President Vladimir Putin began his invasion of Ukraine.
A press release from the White House on Thursday reads, "Americans face rising prices at the pump because of Putin's Price Hike. Since Putin accelerated his military build-up around Ukraine, gas prices have increased by nearly a dollar per gallon. "
"Because of Putin's war of choice, less oil is getting to market, and the reduction in supply is raising prices at the pump for Americans. President Biden is committed to doing everything in his power to help American families who are paying more out of pocket as a result," it continued.
Advertisement - story continues below
It went on to state that Biden is enacting a plan to "ease the pain that families are feeling by increasing the supply of oil starting immediately and achieving lasting American energy independence that reduces demand for oil and bolsters our clean energy economy."
The release noted that at the beginning of 2022, gas prices were hovering around $3.30 a gallon.
However, after Russia launched its invasion of Ukraine, they have soared to over $4.20 a gallon.
"And now, a significant amount of Russian oil is not making it to market. The President banned the import of Russian oil – which Republicans and Democrats in Congress called for and supported," the release reads.
Advertisement - story continues below
It added, "It was the right thing to do. But, as the President said, Russian oil coming off the global market would come with a cost, and Americans are seeing that at the pump."
The White House said Biden will "immediately increase supply by doing everything we can to encourage domestic production now and through a historic release from the Strategic Petroleum Reserve."
Do you think these steps will help bring down gas prices?
NEW:
The Biden administration announces release of one million additional barrels of oil from the strategic petroleum reserve every day for next six monthshttps://t.co/iKcPpI5t9t

— Stephanie Myers (@_StephanieMyers) March 31, 2022
In his first step to help boost domestic production, Biden is calling on Congress to charge oil companies fees for oil wells that they have leases for but are not producing from.
"Companies that continue to sit on non-producing acres will have to choose whether to start producing or pay a fee for each idled well and unused acre," the White House explained.
Advertisement - story continues below
The second step Biden will take is to release one million barrels a day from the Strategic Petroleum Reserve for the next six months.
"The scale of this release is unprecedented: the world has never had a release of oil reserves at this 1 million per day rate for this length of time. This record release will provide a historic amount of supply to serve as bridge until the end of the year when domestic production ramps up," the release added.
Additionally, the White House said revenues from the release of the reserve will be used to restock it in the future.
The third step the president will take is to "call on Congress to pass his plan to speed the transition to clean energy that is made in America."
Advertisement - story continues below
"His plan will help ensure that America creates millions of good-paying union jobs in clean, cutting-edge industries for generations to come," the release argues.
The last step Biden will take is using the Defense Production Act "to secure American production of critical materials to bolster our clean energy economy by reducing our reliance on China and other countries for the minerals and materials that will power our clean energy future."
The president has faced criticism from Republicans who claim his energy policies are partially responsible for higher gas prices. But Biden has pushed back and argued the higher costs are the result of Putin's invasion and energy companies potentially trying to increase their profits.
Truth and Accuracy
We are committed to truth and accuracy in all of our journalism. Read our editorial standards.
Comment Down Below
Conversation