News
Biden Almost Calls Putin 'President Trump,' Catches Himself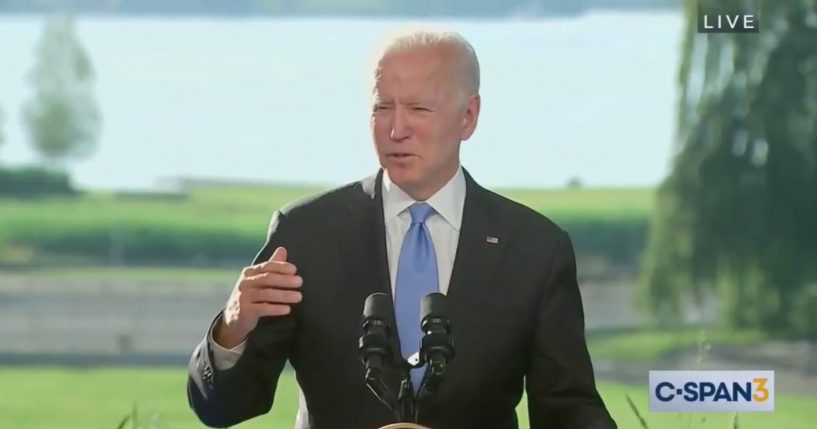 President Joe Biden mistakenly almost referred to Russian President Vladimir Putin as former President Donald Trump.
During a press conference after his meeting with the Russian leader on Wednesday, Biden said, "I caught part of uh President Trum… Putin's press conference."
"And he talked about the need for us to be able to have some kind of modus operandi where we dealt with making sure the Arctic was, in fact, a free zone," he added.
Advertisement - story continues below
Watch the video below:
NOW – Biden almost refers to President Putin as President Trump. pic.twitter.com/BPQM2kghkQ

— Disclose.tv 🚨 (@disclosetv) June 16, 2021
Biden's comments come after he met with Putin for several hours in Geneva, Switzerland, amid heightened tensions between the two countries.
Putin held a separate press conference before Biden where he said, "The conversation was quite constructive. And I once again understood that President Biden is an experienced statesman."
Advertisement - story continues below
"Our one-on-one conversation took almost two hours. It's not every world leader that gets this amount of attention," he added.
Ahead of their meeting, Putin called Biden "radically different from Trump."
"Because President Biden is the career man. … A different kind of person. It is my great hope that yes, there are some advantages, some disadvantages, but there will not be any impulse-based movements on behalf of the sitting U.S. president," he explained.
Truth and Accuracy
We are committed to truth and accuracy in all of our journalism. Read our editorial standards.
Conversation