News
Putin Calls Trump 'Extraordinary,' Says Biden Is 'Radically Different' Than Ex-US POTUS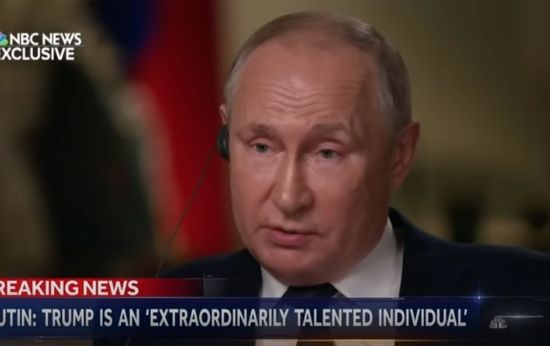 Russian President Vladimir Putin is sharing his thoughts on former President Donald Trump and President Joe Biden.
Ahead of his meeting with Biden, Putin noted that the U.S.-Russia relationship has "deteriorated to its lowest point in recent years."
NBC News' Keir Simmons asked Putin how Biden compares to Trump.
Advertisement - story continues below
"Even now I believe that former U.S. president Mr. Trump is an extraordinary individual, talented individual, otherwise he would not have become U.S. president," Putin said. "He's a colorful individual."
The president of Russia added, "You may like him or not. But he didn't come from the U.S. establishment, he had not been part of big time politics before, and some like it, some don't like it, but that is a fact."
He continued:
"President Biden is radically different from Trump because President Biden is the career man. … A different kind of person. It is my great hope that yes, there are some advantages, some disadvantages, but there will not be any impulse-based movements on behalf of the sitting U.S. president."
Advertisement - story continues below
Watch Putin's interview below:
Simmons also noted during the interview that Trump "didn't deny it" when told Putin "was a killer" and when Biden was asked if he believes Putin is a killer, the president said, "I do." He then asked, "Mr. President, are you a killer?"
After laughing, Putin replied, "Over my tenure, I've gotten used to attacks from all kinds of angles and from all kinds of areas under all kinds of pretext and reasons, and of different caliber and fierceness and none of it surprises me."
He later added, "I've heard dozens of such accusations, especially during the period of some grave events during our counterterrorism efforts in North Caucasus. And when that happens, I'm always guided by the interests of the Russian people and Russian state and sentiments in terms of who calls somebody who and what kind of labels. This is not something I worry about in the least."
Advertisement - story continues below
Simmons added, "Let me give you some names. Anna Politkovskaya shot dead. Alexander Litvinenko poisoned by polonium. Sergei Magnitsky, allegedly beaten and died in prison. Boris Nemtsov shot moments from the Kremlin, moments from here. Mikhail Lesin died of blunt trauma in Washington, D.C. Are all of these a coincidence, Mr. President?"
"Look, you know, I don't want to come across as being rude, but this looks like some kind of indigestion, except that it's verbal indigestion. You've mentioned many individuals who indeed suffered and perished at different points in time for various reasons at the hands of different individuals," Putin responded.
Biden will meet with Putin in Geneva, Switzerland, on June 16.
Truth and Accuracy
We are committed to truth and accuracy in all of our journalism. Read our editorial standards.
Comment Down Below
Conversation