News
Biden Dodges When Asked When Americans Can Expect Prices To Come Down: 'Things Are a Hell of a Lot Better'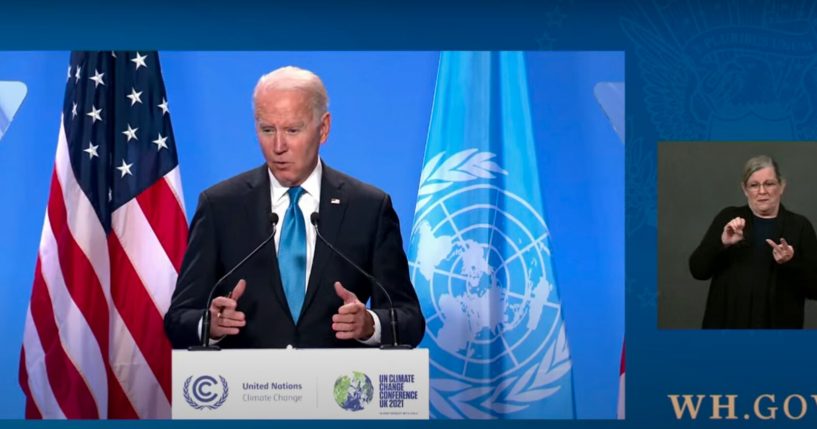 President Joe Biden declined to give an estimate for when Americans can expect to see prices decrease as the rate of inflation has hit a 13 year high.
During a press conference on Tuesday, NBC News' Peter Alexander asked the president, "It's not just gas prices now. Rents are up – the cost of everyday items are up. Inflation in the U.S. is at a 13 year high. So, when specifically should Americans expect those prices to come down?"
"Well look…first of all the significant reason why prices are up is because Covid [is] affecting the supply chain," Biden began to respond. "Number two, if you take a look at, you know, gas prices and you take a look at oil prices that is a result of thus far the refusal of Russia or the OPEC nations to pump more oil. We'll see what happens on that score sooner than later."
Advertisement - story continues below
He continued, "Number three, I think if you take a look at what we're talking about, you look to this coming Thanksgiving. We're in a situation where we find we're in a very different circumstance."
He went on to note that last year, he had a smaller Thanksgiving gathering with his family than usual. But argued, "We're all in a very different circumstance, and things are a hell of a lot better. And the wages have gone up faster than inflation, and we have generated real economic growth. That doesn't mean these dislocations aren't real. They do affect peoples' lives."
Finally, Biden said, "There's a lot to look at, but the bottom line is, I [don't] think that anyone would prefer — as bad as things are in terms of prices hurting families now — [to] trade this Thanksgiving for last Thanksgiving."
Watch the video below:
Advertisement - story continues below
Since Biden took office, the unemployment rate has decreased each month. And in the third quarter of 2021, wages increased by 1.5%, the highest increase in 20 years.
At the same time, over 190 million Americans over the age of 12 have been fully vaccinated against COVID-19.
However, the disruptions in the supply chains caused by the coronavirus are posing a threat to global economic growth.
Tim Uy of Moody's Analytics said in a recent report, "As the global economic recovery continues to gather steam, what is increasingly apparent is how it will be stymied by supply-chain disruptions that are now showing up at every corner.'
Advertisement - story continues below
"Border controls and mobility restrictions, unavailability of a global vaccine pass, and pent-up demand from being stuck at home have combined for a perfect storm where global production will be hampered because deliveries are not made in time, costs and prices will rise, and GDP growth worldwide will not be as robust as a result," he added.
The New York Times reported last month that those supply chain issues could make this year's Thanksgiving meal "the most expensive meal in the history of the holiday," as IJR reported.
Truth and Accuracy
We are committed to truth and accuracy in all of our journalism. Read our editorial standards.
Comment Down Below
Conversation