News
Biden Calls on Congress to Make Move on Gas — A Move Experts Warn Could Make Inflation Worse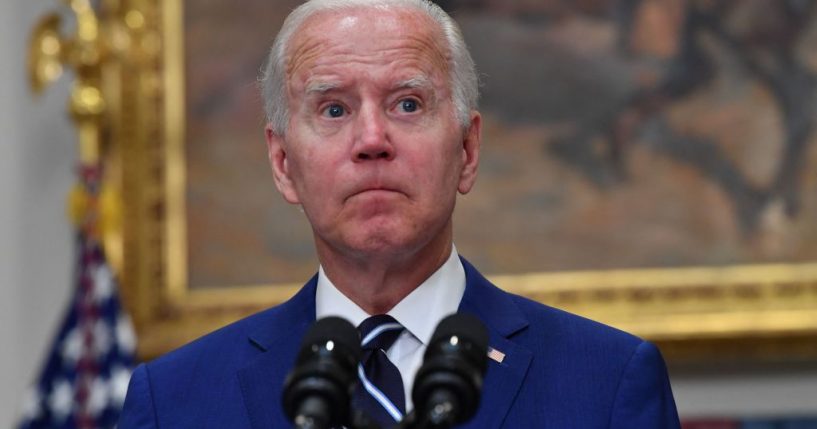 Americans could potentially see a federal gas tax holiday in the near future. However, experts have a warning about it.
President Joe Biden is calling on Congress and states "to take additional legislative action to provide direct relief to American consumers who have been hit with Putin's Price Hike."
"Specifically, he is calling on Congress to suspend the federal gas tax for three months, through September, without taking any money away from the Highway Trust Fund," a White House press release reads. "And he is calling on states to take similar action to provide some direct relief, whether suspending their own gas taxes or helping consumers in other ways."
Advertisement - story continues below
Currently, the federal government charges an 18-cent tax per gallon for gasoline and a 24-cent tax per gallon for diesel, as the press release notes.
Biden is calling for a halt to the federal gas tax through September.
And who is he blaming?
The president pointed fingers once again at Russian President Vladimir Putin. He says this will "give Americans a little extra breathing room as they deal with the effects of Putin's war in Ukraine."
Advertisement - story continues below
Admitting this move "will not, on its own, relieve the run up in costs that we've seen," Biden believes "Congress should do what it can to provide working families breathing room."
This comes on the heels of Biden telling reporters earlier this week he was considering the move, and the AAA reported the national average price of gas at $4.95, as of Wednesday.
A year ago, the national average gas price sat at $3.06. Gas prices have been on the uptick since April 2020.
(As Americans pay more at the pump than ever before, Independent Journal Review will continue to keep the Biden administration accountable. We'll keep bringing readers the truth — and you can help us by subscribing.)
In February, Committee for a Responsible Federal Budget, a non-profit public policy organization, said proposed legislation for a federal gas tax holiday for 10 months "would reduce gas tax revenues by roughly $20 billion, and could worsen inflation once the holiday expires."
Advertisement - story continues below
The committee added, "While the gas tax holiday may reduce prices at the pump, it will further increase demand for gasoline and other goods and services at a time when the economy has little capacity to absorb it. The result could be even higher rates of inflation in 2023." (Inflation hit a new 40-year high in May.)
Additionally, Mark Zandi, chief economist at Moody's Analytics, told CNN "that a gas tax holiday would not be helpful and could even be inflationary," as the outlet reports.
Experts also warn that a gas tax holiday could lead to higher gas prices in the future.
The Wharton School at the University of Pennsylvania released a study on June 15 stating three states — Maryland, Georgia, and Connecticut — have enacted this gas tax holidays. Two other states have made the move too. In Maryland, for example, the state's price of gas decreased during the period of the gas tax holiday, but prices have since soared to a higher price than before it was enacted.
Advertisement - story continues below
Politico also reported in February that a federal gas tax holiday "wouldn't save Americans much money at the pump — but it could do serious damage to President Joe Biden's infrastructure promises."
"The federal gasoline tax adds 18.4 cents to the price motorists pay for every gallon of gas — adding up to less than $3 for Washington when someone fills a Toyota Camry," the outlet added.
Others have also weighed in on this:
Advertisement - story continues below
Joe Biden has caused gas prices to hit historic highs by killing American energy and implementing 39 new regulations and executive orders.

Suspending the gas tax will not fix Biden's energy crisis. It is a fake fix.

— Sen. Marsha Blackburn (@MarshaBlackburn) June 22, 2022
Joe Manchin, who chairs the Senate Energy and Natural Resources Committee, told me this evening he's "a little skeptical" of the gas tax holiday that Joe Biden plans to embrace, saying "there's no guarantee" it will reduce gas prices.

— Manu Raju (@mkraju) June 22, 2022
The Dems' so-called gas tax "holiday" is a gimmick worth 18 cents a gallon, or about 6% of the increase in gas since Biden took office.

It's meant to cover up the fact that Dem policies have restricted supply & raised costs.

— Tom Cotton (@TomCottonAR) June 21, 2022
Biden suspending federal gas tax to fight high gas prices is like throwing a teaspoon of water to fight a five-alarm fire. https://t.co/r2PvSEnxi8

— Laura Ingraham (@IngrahamAngle) June 22, 2022
Advertisement - story continues below
Even former President Barack Obama labeled the idea of a federal gas tax holiday a "gimmick," as IJR reported on.
He said in an April 2008 speech, "It would last for three months and it would save you, on average, half a tank of gas. That's what Senator Clinton and Senator McCain are proposing to deal with the gas crisis. $25 to $30. Half a tank of gas."
Obama continued that this is "the problem with Washington. We are facing a situation where oil prices could hit $200 a barrel. Oil companies like Shell and BP just reported record profits for the quarter."
He added, "And we're arguing over a gimmick to save you half a tank of gas over the course of the entire summer so that everyone in Washington can pat themselves on the back and say that they did something."
Advertisement - story continues below
Some appear to be in support of the idea, however. Michigan Gov. Gretchen Whitmer (D) reacted to the news, tweeting, "Good. I've called for this for months, and have put forward my own ideas to lower costs. Michiganders need relief, and they need it now."
Truth and Accuracy
We are committed to truth and accuracy in all of our journalism. Read our editorial standards.
Comment Down Below
Conversation