News
Biden Defends His Son Hunter Amid Criminal Allegations: 'I'm Proud of Him'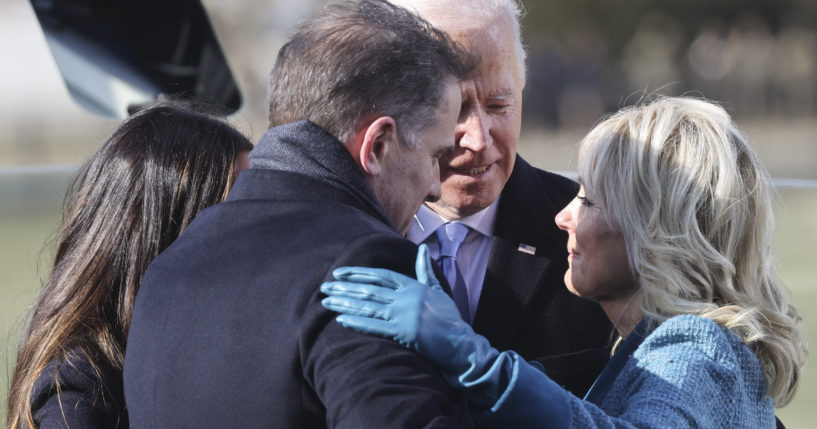 President Joe Biden came to his son Hunter Biden's defense amid potential criminal charges against the younger Biden.
On Tuesday, CNN's Jake Tapper sat down with the president for an interview noting prosecutors believe they could have enough evidence to charge his son for tax crimes and a false statement about buying a gun.
"Personally and politically, how do you react to that?" Tapper asked Joe Biden.
Advertisement - story continues below
He replied, "I'm proud of my son. This is a kid who got, not a kid — he's a grown man. He got hooked on — like many families have had happen, hooked on drugs."
The elder Biden added, "He's overcome that. He's established a new life."
The president went on to tell Tapper he is "confident that he is — what he says and does are consistent with what happens. And for example, he wrote a book about his problems and was straightforward about it. I'm proud of him."
He continued, "He came along and said, by the way, this thing about a gun — I didn't know anything about it. But turns out that when he made [an] application to purchase a gun, what happened was he say – I guess you get asked, I don't guess, you get asked a question, are you on drugs or do you use drugs? He said no. And he wrote about saying no in his book."
Advertisement - story continues below
According to the president, his son has been on the "straight and narrow" for years.
Watch Biden's comments below:
CNN's TAPPER: "Prosecutors […] have enough to charge your son Hunter for tax crimes and false statements about a gun purchase…"

BIDEN: "When he made an application to purchase a gun, […] You get asked the question, 'Are you on drugs?' He said 'no.'"pic.twitter.com/gBgSPDheDj

— Breaking911 (@Breaking911) October 12, 2022
Last week, The Washington Post reported federal agents "gathered what they believe is sufficient evidence to charge [Hunter Biden] with tax crimes and a false statement related to a gun purchase," citing those familiar with the case.
The individuals said the next step is for the U.S. Attorney in Delaware to determine whether to file charges, as the Post noted.
Advertisement - story continues below
Former White House press secretary Jen Psaki was also asked about the potential charges over the weekend during an interview with "Meet the Press."
She explained: "The truth is, I looked at a bunch of local front pages this morning, and if you look at the front page in Nevada, they're talking about [former President Donald] Trump's rally there, and what it means for candidates in turning out the vote. If you look at the front pages in Pennsylvania, they're talking about [gubernatorial candidate Doug] Mastriano, does he have a grassroots campaign or movement going, and obviously Georgia is quite focused on every latest development in [Senate candidate] Herschel Walker."
Psaki added, "So the truth is, as much as there was so much news happening in Washington this week, it doesn't always translate and often doesn't translate to what voters are talking about in states, and I think that's what we're seeing currently."
Truth and Accuracy
We are committed to truth and accuracy in all of our journalism. Read our editorial standards.
Comment Down Below
Conversation