Commentary
Biden Schedules First Interview in 118 Days – But It's Not With a Journalist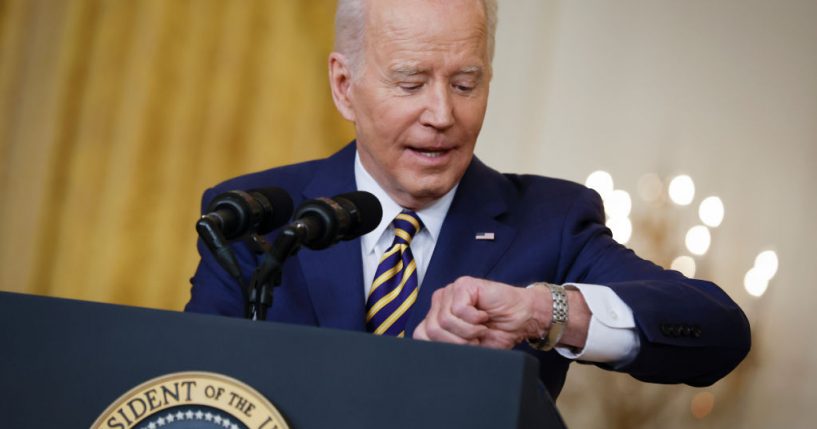 During his time in office, President Joe Biden has surpassed previous presidents going back to World War II for the pace with which his approval rating collapsed.
He has also surpassed his most recent predecessors when it comes to his reluctance to sit down for formal interviews.
In May, the president hit the milestone of 100 consecutive days without giving a sit-down interview, as the Washington Examiner first noted. The last interview he gave was to NBC News' Lester Holt in February, ahead of the Super Bowl.
Advertisement - story continues below
Biden has finally decided to break his 118-day streak of not giving an interview.
So, who has the president chosen to take questions from?
Fox News' Peter Doocy? Certainly not. Did he choose someone from CNN or MSNBC? No.
Perhaps he thought it would be good to stick with the legacy networks like NBC News, CBS News, and ABC News. Wrong again.
Advertisement - story continues below
After going months without sitting down for questions where he can't just turn and walk away or refuse to answer the question — as he can when he takes questions in an informal setting — the president has agreed to give an interview to late-night host Jimmy Kimmel.
"Our very elected President [Biden] visits [Jimmy Kimmel Live] Wednesday night. No malarkey," Kimmel tweeted.
Do you think Biden should go on Kimmel's show?
Our very elected President @JoeBiden visits @JimmyKimmelLive Wednesday night. No malarkey. 11:35|10:35c @POTUS @ABCNetwork

— Jimmy Kimmel (@jimmykimmel) June 5, 2022
As the country is experiencing inflation hovering near a 40-year high, a shortage of baby formula, and heated debates over gun control and abortion, the president is going to have a little chat with a comedian.
Sadly, this is probably the best format for Biden when it comes to limiting the potential political damage.
Advertisement - story continues below
He is reportedly upset his poll numbers are lower than former President Donald Trump's.
And Biden already has a history of lashing out at reporters when they ask questions he doesn't like, such as when he snapped at CBS News' Errol Barnett for daring to ask if he had taken a cognitive test in 2020.
"No, I haven't taken a test. Why the hell would I take a test? Come on, man. That's like saying to you, before you got on this program if you had taken a test were you taking cocaine or not. What do you think, huh? Are you a junkie?" Biden fired back.
Advertisement - story continues below
There was also the time last year he snapped at CNN's Kaitlan Collins for asking why he was "confident" Russian President Vladimir Putin would change his behavior.
"I'm not confident," Biden said as he turned around and raised his voice. "What the hell, what do you do all the time?" 
He continued, "When did I say I was confident? What I said was … what will change their behavior is if the rest of the world reacts to them and it diminishes their standing in the world." 
Advertisement - story continues below
Earlier this year, called Doocy a "stupid son of b****" and another Fox reporter's question "stupid."
The president also chastised RealClearNews' Philip Wegman for his "interesting reading of English" and accused the reporter of misrepresenting something he said.
So while every day Americas are struggling to find baby formula and make ends meet due to inflation and gas prices, Biden will be joking around with Kimmel and fielding softball questions probably designed to lead him to take shots at Republicans and Sen. Joe Manchin (D-W.Va.) for not going along with his agenda.
Truth and Accuracy
We are committed to truth and accuracy in all of our journalism. Read our editorial standards.
Comment Down Below
Conversation