IJR
Biden Mentions 'Freedom' When Talking About Vaccine Mandates, Asks 'How About Patriotism?'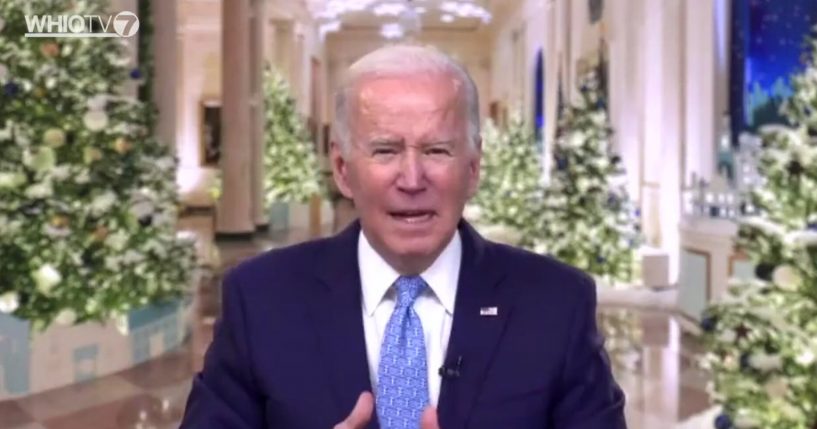 President Joe Biden is urging Americans to get the COVID-19 vaccine, asking them, "What's the big deal?"
During an interview with WHIO TV 7, the outlet's John Bedell noted Biden's vaccine mandates have "suffered some setbacks in court recently."
He continued, "Federal judges have halted three of those COVID vaccine mandates. Are you going to back down, or are you going to continue to fight those in court?"
Advertisement - story continues below
Biden told Bedell he plans on fighting the lawsuits filed against him.
The president explained, "This is a pandemic of the unvaccinated. Not the vaccinated, the unvaccinated. That's the problem. Everybody talks about freedom about not to have a shot or have a test. Well, guess what?"
He added, "How about patriotism? How about making sure that you're vaccinated so you do not spread the disease to anyone else? What about that? What's the big deal?"
Watch his comments below:
Advertisement - story continues below
Joe Biden to Americans concerned about vaccine mandates encroaching on their freedom: "What's the big deal?" pic.twitter.com/GJTZr6RmFX

— RNC Research (@RNCResearch) December 15, 2021
Biden's comments come just a week after the Senate voted to overturn his vaccine or testing mandate for private businesses that have more than 100 employees.
Is this a pandemic of the unvaccinated?
Democratic Sens. Jon Tester of Montana and Joe Manchin of West Virginia voted alongside 50 Republicans.
As CNN noted, the multiple lawsuits filed against the mandate have been reassigned to an Ohio federal appeals court.
Manchin said in a statement, "I have long said we should incentivize, not penalize, private employers whose responsibility it is to protect their employees from COVID-19."
Advertisement - story continues below
Senate Majority Leader Chuck Schumer (D-N.Y.) argued the effort to challenge the mandate is an "anti-science, anti-vaccine vote."
"If their plans go into effect, Covid will linger longer, and the chance of new variants and new more dangerous variants occurring increases," Schumer said.
He continued, "It is anti-science, anti-common sense, it makes no sense."
In November, a flash survey of 300 businesses showed 60% of companies are moving forward with vaccine mandates.
Truth and Accuracy
We are committed to truth and accuracy in all of our journalism. Read our editorial standards.
Comment Down Below
Conversation