Commentary
Even Biden Is In on It Now: POTUS Criticizes 'Extremist' Supreme Court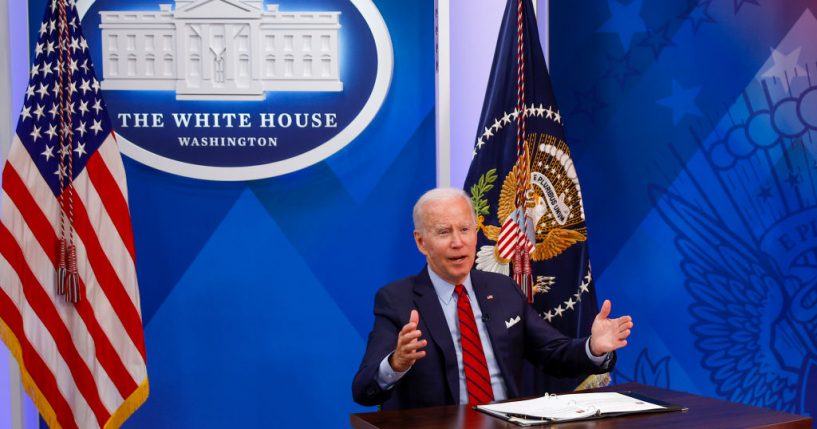 In the week since the U.S. Supreme Court overturned Roe v. Wade, President Joe Biden's language about the institution has morphed.
Hours after the decision was first handed down, Biden delivered remarks about it that expressed his disappointment and stated that he believes it is a "tragic error."
But he refrained from outright attacking the court and called for protests to remain peaceful.
Advertisement - story continues below
However, that seems to be changing. On Thursday, while he was in Spain, Biden claimed the court is "destabilizing."
And during an event on Friday, Biden said, "I share the public outrage that this extremist court has committed to move America backwards with fewer rights, less autonomy."
Watch the video below:
BIDEN: "Politicians invading the most personal decisions that not only women, but we'll find if they expand on this decision, men as well." pic.twitter.com/I4PAq20sEv

— Townhall.com (@townhallcom) July 1, 2022
Advertisement - story continues below
He is not alone in using such sharp language.
House Speaker Nancy Pelosi (D-Calif.) asserted earlier this week, "This extremist Supreme Court works to punish and control the American people."
Do you think the court is extremist?
Meanwhile, Senate Majority Leader Chuck Schumer (D-N.Y.) unloaded on the court in a lengthy statement as he said, "This MAGA, repressive, extremist Supreme Court is intent on setting America back decades, if not centuries."
He continued, "The Republican-appointed majority of the MAGA Court is pushing back the country back to a time when robber barons and corporate elites have complete power and average citizens have no say."
It seems the Democrats decided that their word of the week is extremist.
Advertisement - story continues below
Let's just take this time to reflect on the fact that the leaders of House and Senate and the President of the United States are all attacking the third branch of government.
But those are not the worst attacks either, Rep. Alexandria Ocasio-Cortez (D-N.Y.) called the decision on Roe "illegitimate," while Rep. Maxine Waters (D-Calif.) called to defy the court, and Rep. Jamie Raskin (D-Md.) — a member of the Jan. 6 Committee — called its reasoning in recent decisions "utterly fraudulent."
It's worth pointing out that the decision overturning Roe leaves abortion regulations up to the states.
And it's unclear how restrictions on abortions will shake out as several states have seen legal challenges to abortion laws on the grounds that they violate state constitutions.
Advertisement - story continues below
It cannot be said enough that having the leaders of our government not just disagree with the court's decision, but attack it is a dangerous road that opens the door to leaving the court ineffective and powerless.
Truth and Accuracy
We are committed to truth and accuracy in all of our journalism. Read our editorial standards.
Comment Down Below
Conversation