Biden 'Prepared To Write off' $10k in Student Loan Debt, but Not $50k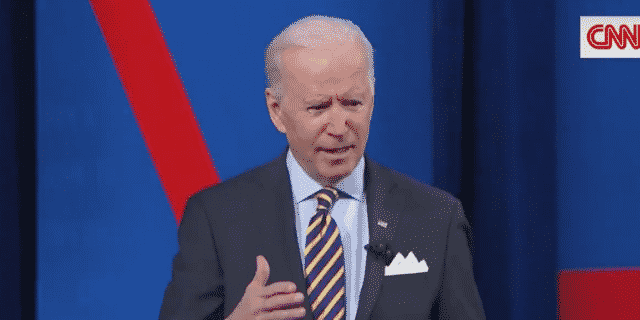 President Joe Biden is open to forgiving $10,000 in student loan debt, but not $50,000.
Speaking at the CNN town hall on Tuesday night, Biden declared he would "not make" canceling $50,000 of student debt per borrower "happen." He also added that it depends on whether it is debt from a private or public school.
However, Biden said he believes "everyone should be able to go to community college for free," adding that it costs $9 billion "and we should pay for it."
Regarding forgiving student loan debt, Biden said, "I do think in this moment of economic pain and strain that we should be eliminating interest on the debts that are accumulated, No. 1."
"No. 2, I'm prepared to write off the $10,000 debt, but not [$50,000]," he continued.
The president added that he does not believe he has the authority to do that by signing an executive order.
Watch the videos below:
"I'm prepared to write off $10,000 debt, but not 50 because I don't think I have the authority to do it by signing" an executive order, Biden says.

He pitches 0% interest on student loans (which he's already done thru Sept.) & expanding public service loan forgiveness. pic.twitter.com/GUyQqYabdt

— Michael Stratford (@mstratford) February 17, 2021
Biden is slapping down an idea by fellow Democrats to cancel $50,000 in student loan debt.
Democratic lawmakers reintroduced legislation on Feb. 4 pushing for Biden to use executive action to cancel $50,000 in federal student loan debt.
Senate Majority Leader Chuck Schumer (D-N.Y.) and Sen. Elizabeth Warren (D-Mass.), among other lawmakers, signed the resolution. Warren estimated the measure would cost roughly $650 billion, but that it would be good for the economy in the long-term.
Warren said earlier this month, "Canceling student loan debt is the single most effective executive action that President Biden can take to kick-start the economy. Canceling student loan debt is good for you, whether you have student loan debt or not, because it is good for our economy."
Biden, however, did extend student loan forbearance through at least Sept 30, 2021. The period of the forbearance began on March 13, 2020.