News
Biden Says Republicans 'Don't Have a Clue About the Power of Women' in Warning About Positions on Abortion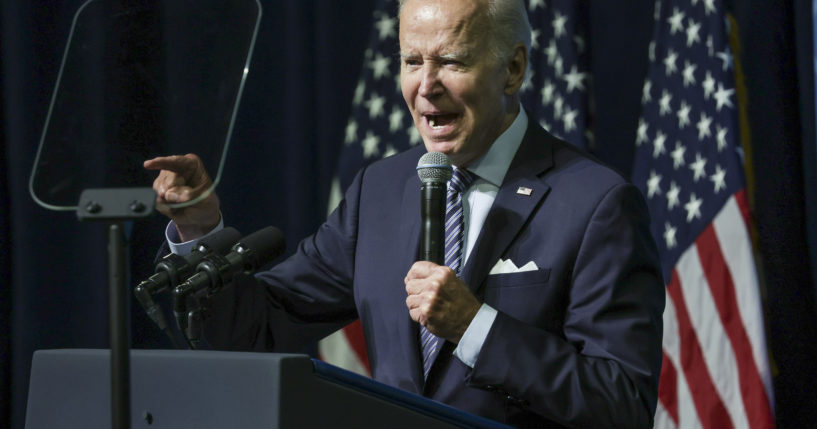 President Joe Biden claims Republicans are "about to find out" about the power women have.
During his speech at a reception of the Democratic National Committee on Thursday night, Biden spoke out against restrictions on abortions.
Biden suggested if Republicans had their way, women would not have the right to choose anywhere in America.
Advertisement - story continues below
"Republicans have awakened a powerful force in this nation, women," Biden said.
He added, "Read the decision. And the court says that women have a right to vote to change this if they don't like it at the state level. Well guess what, pal? Here you come. Republicans don't have a clue about the power of women."
According to Biden, they are "about to find out."
Watch Biden's remarks below:
Advertisement - story continues below
President Biden speaking about The Republicans assault on reproductive rights and the GOP's plan to pass a national abortion ban, contraception and marriage equality.@POTUS: "Republicans don't have a clue about the power of women…they're about to find out!" pic.twitter.com/yFTXEIrWuu

— Brad Bo ☮️🇺🇸 (@BradBeauregardJ) September 9, 2022
Last week, The New York Times noted Republican leaders have raised concerns over the impact abortion could have on the upcoming midterm elections.
Do you think Republicans will "find out"?
According to the Times, "At least 10 Republican candidates in competitive races have updated their websites to downplay their ties to Mr. Trump or to adjust uncompromising stances on abortion. Some have removed material from their websites altogether."
According to a NPR/PBS NewsHour/Marist poll, abortion is the top issue for Democrats in the midterms.
Seventy-seven percent of Democrats say the Supreme Court's decision to overturn Roe v. Wade makes them more likely to vote.
Advertisement - story continues below
Democrats have continued to criticize Republicans over their pro-life policies.
House Speaker Nancy Pelosi (D-Calif.) went after opponents of abortion during the Roundtable on Women's Reproductive Health at the University of California San Francisco Mission Bay Campus last month, as IJR reported.
"The fact that this is such an assault on women of color and women – lower income families is just sinful. It's sinful," Pelosi said.
She added, "It's wrong that they would be able to say to women what they think women should be doing with their lives and their bodies. But it's sinful, the injustice of it all."
Truth and Accuracy
We are committed to truth and accuracy in all of our journalism. Read our editorial standards.
Comment Down Below
Conversation