News
Biden Takes Swipe at Republicans: They Are Supporting 'A Jim Crow Era in the 21st Century'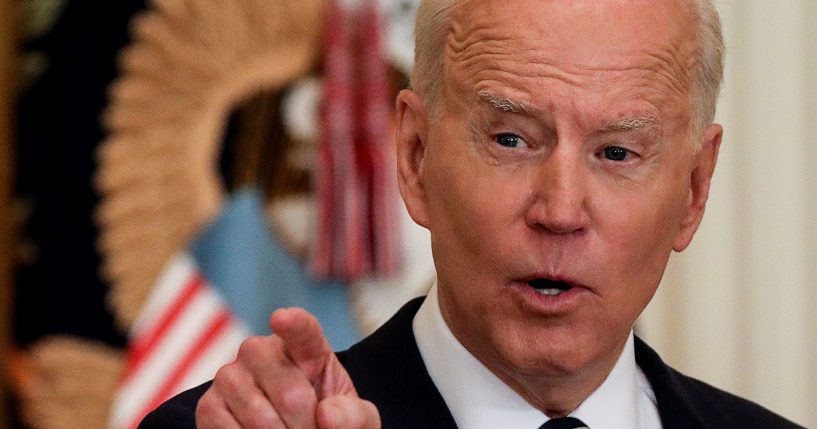 President Joe Biden is criticizing Republican senators after they blocked a procedural vote to advance Democrats' voting rights legislation.
Applauding Democrats for "unanimously [coming] together to protect the sacred right to vote," the president said they "stood united for democracy."
He then added in his statement on Tuesday evening, "They stood against the ongoing assault of voter suppression that represents a Jim Crow era in the 21st Century."
Advertisement - story continues below
"Unfortunately, a Democratic stand to protect our democracy met a solid Republican wall of opposition," Biden continued. "Senate Republicans opposed even a debate — even considering — legislation to protect the right to vote and our democracy."
"It was the suppression of a bill to end voter suppression — another attack on voting rights that is sadly not unprecedented."
Biden concluded: "But let me be clear. This fight is far from over — far from over. I've been engaged in this work my whole career, and we are going to be ramping up our efforts to overcome again — for the people, for our very democracy."
In a 50-50 vote on Tuesday, Senate Republicans blocked the sweeping election reform bill, called the For the People Act, as IJR reported on.
Advertisement - story continues below
Democrats, however, are not backing down — as Biden also noted that the "fight is far from over." Senate Majority Leader Chuck Schumer (D-N.Y.) also said, "In the fight for voting rights, this vote was the starting gun, not the finish line. We will not let it go. We will not let it die. This voter suppression cannot stand."
House Speaker Nancy Pelosi (D-Calif.) also slammed Republicans, writing in a statement, "All Senate Republicans voted against even proceeding to debate on democracy reform — because they know that the only way for them to win elections is to suppress the vote."
"Our American Democracy is in peril, and today, every single Senate Republican voted against saving it. Democrats will not be deterred in our fight for the For The People Act. Our Republic is at a crossroads, and it is up to us to save it," she added.
Prior to Tuesday's vote, Senate Minority Leader Mitch McConnell (R-Ky.) said last week that the Senate would reject the bill and called it "a massive takeover of our electoral system with a fill-in-the-blank rationale."
According to CBS News, the bill "would be the greatest overhaul of election laws in a generation, revamping government ethics and campaign finance laws while seeking to strengthen voting rights by creating automatic voter registration and expanding access to early and absentee voting. It also includes some measures that would require states to overhaul their registration systems, limit states' ability to remove people from voter rolls, increase federal funds for election security and reform the redistricting process."
Truth and Accuracy
We are committed to truth and accuracy in all of our journalism. Read our editorial standards.
Conversation