Commentary
Biden Tells Americans They 'Should Have Peace of Mind' As Price Increases Surge to 40-Year High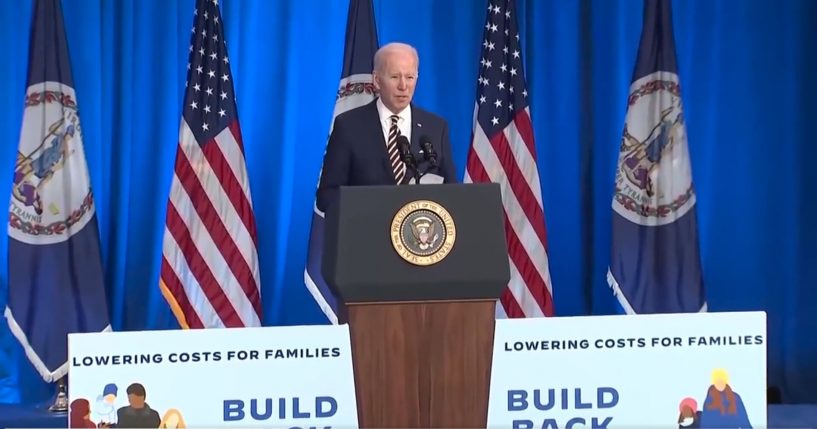 As inflation continues to rise unabated, President Joe Biden insists that Americans should have "peace of mind."
During an event in Virginia on Thursday, Biden said, "The fact is that we're in a situation now where, you know, you should have peace of mind."
"I know food prices are up, and we're working to bring them down. As I said…the price at the pump went up…But these things are necessities," Biden said.
Advertisement - story continues below
He continued, "We're working to bring down prices where they're not totally what families have to pay now."
Watch the video below:
Biden on inflation: "We're in a situation now where you should have peace of mind." pic.twitter.com/y8VBcJIDwQ

— RNC Research (@RNCResearch) February 10, 2022
During the same event, Biden claimed, "If we're able to do the things I'm talking about here. It will bring down the cost for average families."
Advertisement - story continues below
"I don't know why [prices] keep moving and all that," he added.
His comments come on the heels of the latest report from the Labor Department found that inflation in January exceeded expectations as it rose 7.5% compared to the previous year and .6% from December.
Do you have peace of mind?
That is the highest rate of price increases since February 1982.
The Washington Post's Heather Long points out that compared to last year, used car prices are up 40.5%, gas is up 40%, furniture is up 20%, bacon is up 18%, steak is up 17%, and peanut butter is up 15.5%.
Check out some of the other price increases below:
Advertisement - story continues below
Inflation is at a 40-year high. Where are Americans seeing big price hikes?

Used cars 40.5% y/y
Gas 40%
Rental cars 29%
Utility gas 24%
Hotels 21%
Furniture 20%
Bacon 18%
Steak 17%
Peanut Butter 15.5%
Pork 14.5%
Fish 13%
Eggs 13%
New cars 12%
Electric 11%
Chicken 10%
Oranges 10%

— Heather Long (@byHeatherLong) February 10, 2022
Biden is vowing to "work like the devil to bring gas prices down."
But the steps he previously announced as part of the plan to bring gas prices down have not made a major impact. In November, he asked the Federal Trade Commission to investigate whether "illegal conduct" by oil and gas companies drove up gas prices.
And as gas prices hit a seven-year high, Biden announced the decision to release 50 million barrels of oil from the Strategic Oil Reserve "to lower prices for Americans and address the mismatch between demand exiting the pandemic and supply."
Advertisement - story continues below
About a month later, the average price for a gallon of gas fell about 10 cents to $3.31. However, they have once again risen, and the national average as of Thursday afternoon sits at $3.47, according to AAA.
While administration officials initially insisted that inflation would be "transitory," it has persisted and January marks the third consecutive month that the annual rate of inflation was above 6%.
Meanwhile, Biden officials' answer to inflation — his nearly $2 trillion Build Back Better bill — is languishing in Congress. Sen. Joe Manchin (D-W.Va.) argues the spending package would fuel inflation, not bring prices down.
Why should Americans have "peace of mind" right now when more than a year into his presidency, nothing Biden has done has made a noticeable dent on price increases?
Truth and Accuracy
We are committed to truth and accuracy in all of our journalism. Read our editorial standards.
Comment Down Below
Conversation