News
Biden Announces Department of Energy Will Release 50 Million Barrels of Oil to Lower Gas Prices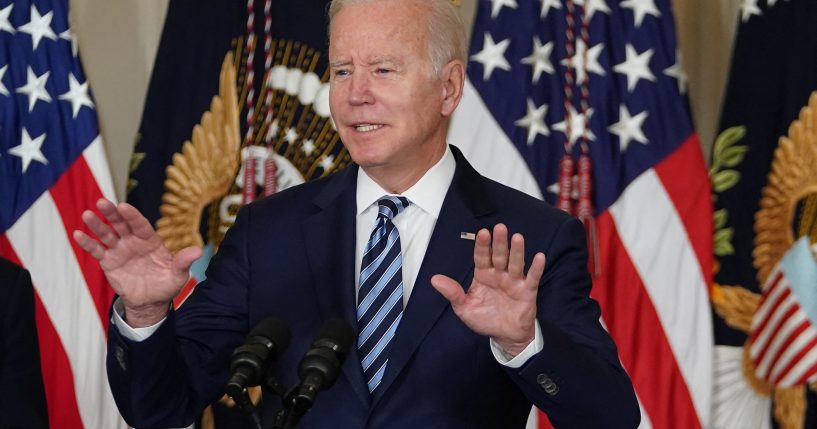 President Joe Biden is making an effort to lower gas prices through the Department of Energy.
The administration released a statement acknowledging Americans are feeling the impact of rising gas prices, adding, "And American businesses are, too, because oil supply has not kept up with demand as the global economy emerges from the pandemic. That's why President Biden is using every tool available to him to work to lower prices and address the lack of supply."
Biden announced "the Department of Energy will make available releases of 50 million barrels of oil from the Strategic Petroleum Reserve to lower prices for Americans and address the mismatch between demand exiting the pandemic and supply."
Advertisement - story continues below
According to the president, the release will also "be taken in parallel with other major energy consuming nations including China, India, Japan, Republic of Korea and the United Kingdom."
Biden said the 50 million barrels will be made available in two ways, explaining, "32 million barrels will be an exchange over the next several months, releasing oil that will eventually return to the Strategic Petroleum Reserve in the years ahead."
He continued, "18 million barrels will be an acceleration into the next several months of a sale of oil that Congress had previously authorized."
Today I'm announcing action to lower the cost of gas and oil for American families.

The Department of Energy will make available releases of 50 million barrels of oil from the Strategic Petroleum Reserve to lower gas and oil prices for Americans.

— President Biden (@POTUS) November 23, 2021
Advertisement - story continues below
The president received criticism for his decision from both lawmakers and former President Donald Trump.
President Biden's decision to tap America's strategic reserves—which will release just 3 days' worth of oil onto the market—is not about a real solution to our energy crisis.

It is a crass political ploy just 3 days ahead of Thanksgiving.

— Kevin McCarthy (@GOPLeader) November 23, 2021
Do you agree with Biden's decision?
Biden is opening the strategic oil reserves because he decided to destroy domestic energy production and OPEC rebuffed his nonsensical demands.

He's only releasing enough for about 2.5 days of usage.

This "help" is a big lie. He made the crisis!

— Lauren Boebert (@laurenboebert) November 23, 2021
Joe Biden cut U.S. oil production, canceled pipelines, and now he's selling off the Strategic Petroleum Reserve—meant for emergencies—because of his low poll numbers.

More incompetence from the Biden White House.

— Tom Cotton (@TomCottonAR) November 23, 2021
Trump said in a statement, "For decades our Country's very important Strategic Oil Reserves were low or virtually empty in that no President wanted to pay the price of filling them up. I filled them up three years ago, right to the top, when oil prices were very low. Those reserves are meant to be used for serious emergencies, like war, and nothing else."
Advertisement - story continues below
He added, "Now I understand that Joe Biden will be announcing an 'attack' on the newly brimming Strategic Oil Reserves so that he could get the close to record-setting high oil prices artificially lowered. We were energy independent one year ago, now we are at the mercy of OPEC, gasoline is selling for $7 in parts of California, going up all over the Country, and they are taking oil from our Strategic Reserves. Is this any way to run a Country?"
NBC News reported on Sunday, citing the Energy Information Administration, that the average price for a gallon of gas in November is $3.38. The price is the highest it has been since 2013, as the outlet reports.
Truth and Accuracy
We are committed to truth and accuracy in all of our journalism. Read our editorial standards.
Comment Down Below
Conversation