Biden: Trump Is Using Michael Flynn Case to Divert Attention From His Coronavirus Response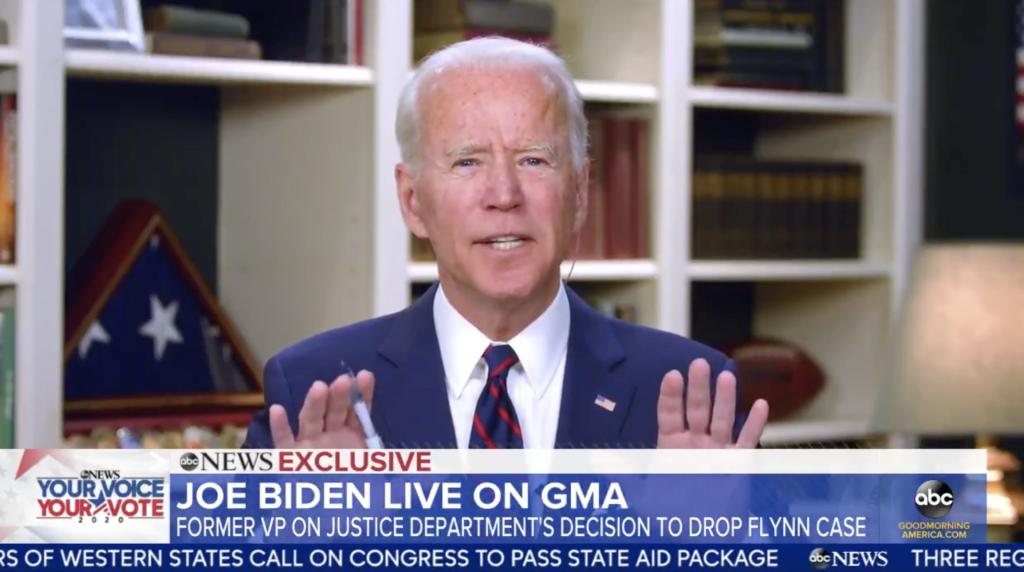 Former Vice President Joe Biden (D) is expressing his belief President Donald Trump is using former National Security Adviser Michael Flynn to distract the American people from his coronavirus response efforts.
ABC's George Stephanopoulos asked Biden if he knew about the investigation into Flynn and whether "anything improper" was done.
Biden explained he knew nothing about the moves to investigate Flynn — which he later added that he was "aware that they asked for an investigation" — and how this is just another matter Trump is using to distract from his plan to combat the coronavirus outbreak.
"I know nothing about those moves to investigate Michael Flynn number one. Number two, this is all about diversion," Biden said.
He continued, "This is a game this guy plays all the time. The country is in crisis. We're in an economic crisis, a health crisis, we're in real trouble. He should stop trying to always divert from the real concerns of the American people."
Watch his comments below:
FULL INTERVIEW: Former vice president and now Democratic presidential hopeful @JoeBiden speaks to @GStephanopoulos in an exclusive interview about coronavirus and how he would handle things. pic.twitter.com/vsiRPjVmxq

— Good Morning America (@GMA) May 12, 2020
The Department of Justice announced last week it was moving to drop its prosecution of Flynn, as IJR previously reported.
Flynn had previously plead guilty to lying to the FBI, but sought to withdraw his plea earlier this year.
Attorney General William Barr opened up about the decision shortly after the DOJ made the announcement, as IJR previously reported. He said it was his "duty" to drop the prosecution against Flynn.
Biden reiterated Trump should be focusing on implementing a national plan to combat the coronavirus rather than the Flynn case.
"Think about this, can you imagine any other president of the United States focusing on this at the moment when the country is just absolutely concerned about their health, the health of their children, the health of their families," Biden said.
He continued, "We have an economic crisis, we have a health crisis. This is all about diverting attention. Focus on what is in front of us. Get us out of this Mr. President."