Biden Predicts Vaccine Distribution Could 'Be Behind by Weeks or Months' Without a Smooth Transition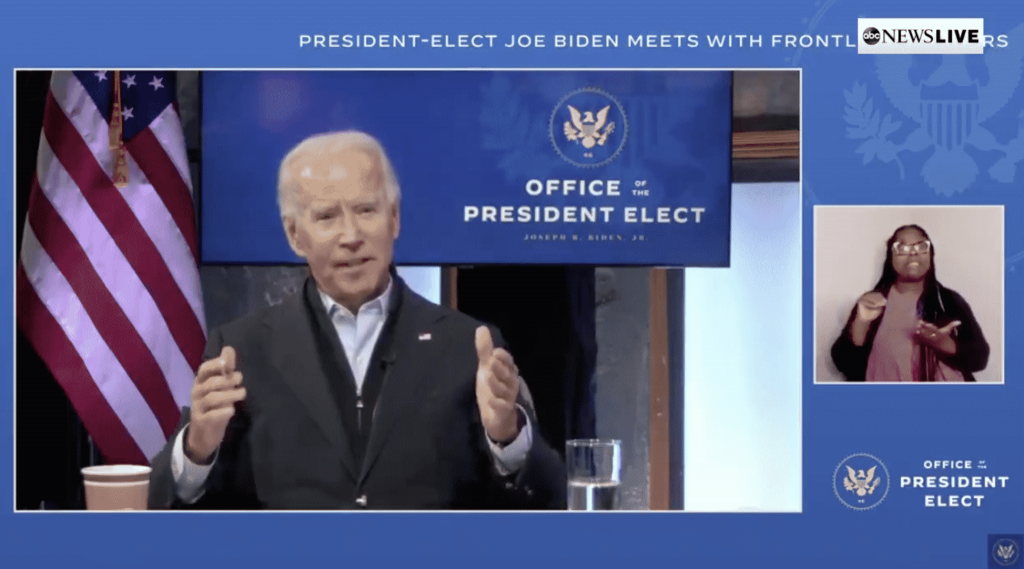 President-elect Joe Biden is warning Americans the distribution of a COVID-19 vaccine could be delayed if President Donald Trump is unwilling to assist him in his transition into office.
During a virtual roundtable with frontline health care workers in Delaware Wednesday, Biden noted his team has been unable to gain access to crucial information about "the depth of the stockpiles" of resources to combat COVID-19.
"There's a whole lot of things that… we just don't have available to us," Biden said.
He added, "Which unless is made available soon, we're going to be behind by weeks or months being able to put together the whole initiative relating to the biggest promise we have with two drug companies coming along and finding 95% effectiveness, efficiency in the vaccines, which is enormous promise."
Watch his remarks below:
Pres.-elect Joe Biden warns COVID-19 vaccine distribution could "be behind by weeks or months" as his transition is stalled by the Trump administration. https://t.co/ryjKy65NP2 pic.twitter.com/zsrgUojG39

— ABC News (@ABC) November 18, 2020
Biden continued, "So I just want to tell you that that's the only slowdown right now that we have."
The former vice president noted the General Services Administration had not acknowledged him as the winner of the election, making for a more difficult transition.
"I am optimistic, but we should be further along…The law says that the General Services Administration has a person who recognizes who the winner is, and then they have to have access to all the data and information that the government possesses to be prepared," Biden said.
He went on, "It doesn't require there to be an absolute winner. It says the 'apparent winner.'"
Biden on Monday warned if Trump does not allow for a smooth transition "more people may die," as IJR previously reported.
"As my Chief of Staff Ron Klain would say, who handled Ebola, the vaccine's important. It's of little use until you're vaccinated," Biden said.
Dr. Rick Bright, a member of Biden's coronavirus task force, argued Trump's refusal to concede the election "very likely" can delay vaccine distribution, as IJR previously reported.