News
Biden Voices Opposition to Defunding the Police: 'The Answer Is to Come Together'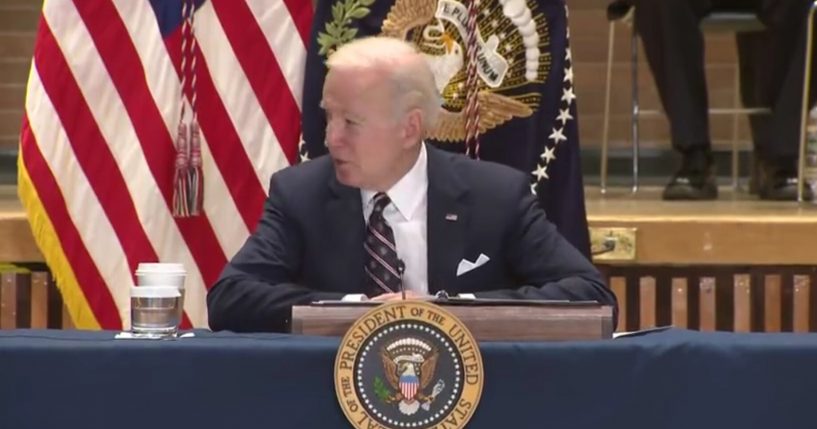 President Joe Biden is acknowledging the answer to violence in New York City is "not to defund the police."
Biden mentioned New York City Mayor Eric Adams (D), saying, "You and I agree, the answer is not to abandon our streets, that's not the answer."
He continued, "The answer is to come together, police and communities, building trust and making us all safer. The answer is not to defund the police, it's to give you the tools, the training, the funding to be partners, to be protectors and the community needs you, know the community."
Advertisement - story continues below
Biden recognized law enforcement needs to treat everyone with "respect and dignity."
He added, "That's why I called on the Congress to pass the budget later this year to provide cities like New York and others with an additional $300 million for community policing."
President Biden: "Mayor Adams, you and I agree – the answer is not to abandon our streets. […] The answer is not to defund the police – it's to give you the tools, the training, the funding to be partners, to be protectors." https://t.co/lPkTi17HIn pic.twitter.com/96EcQY1U1D

— The Hill (@thehill) February 3, 2022
The president also honored two NYPD officers that were killed last month.
Advertisement - story continues below
"Their futures were cut short by a man with a stolen Glock and a 40 round magazine," Biden said.
Adams claimed Biden visited the city "because he knows what the American people want: justice, safety and prosperity."
Is defunding the police the answer to crime in New York City?
He added, "They deserve every bit of it, and he wants to end the gun violence in our city and in our country."
Last week, Adams unveiled a plan to combat gun violence. According to The New York Times, his plan "included the restoration of an anti-gun police unit, and called on state lawmakers to make a number of changes, including to New York's bail law and to a law that altered how the state handles teenage defendants."
Adams stressed the plan "is not just a plan for the future — it is a plan for right now," adding, "Gun violence is a public health crisis. There is no time to wait."
Truth and Accuracy
We are committed to truth and accuracy in all of our journalism. Read our editorial standards.
Comment Down Below
Conversation