Commentary
Biden's Approval Rating Hits Highest Point in Nearly a Year: Poll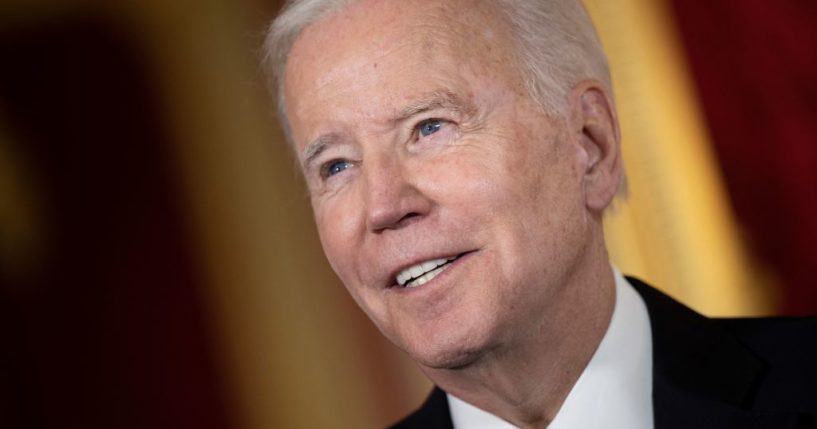 After nearly a year of sliding poll numbers, it appears that President Joe Biden is seeing an uptick in his approval rating and just in time for the midterm elections.
An NBC News poll released on Sunday found 45% of registered voters approve of Biden's job performance. Meanwhile, 52% disapprove. That is the highest approval rating the president has received in this poll since Oct. 2021.
Headlines from the new national NBC News poll:

1. Biden's approval inches up (among registered voters)

Approve: 45% (+3 since Aug)
Disapprove: 52% (-3)

Improvement comes mainly from core Dem groups like women, 18-34s, Latinos

— Mark Murray (@mmurraypolitics) September 18, 2022
Advertisement - story continues below
The poll notes that Biden's approval rating has improved among several demographics from August, when 47% of women approved of his job performance, to 52% in September.
Meanwhile, his support among Latinos increased from 40% to 48%. And among voters between 18 and 34, it leaped from 36% to 48%.
However, just 36% of independent voters approve of Biden's performance. Meanwhile, 43% of suburban voters and 47% of seniors said the same.
And while the latest poll shows an improvement for the president, 45% is not exactly great.
Advertisement - story continues below
Republican pollster Bill McInturff of Public Opinion Strategies, who conducted the survey along with Democratic pollster Jeff Horwitt of Hart Research Associates, said, "45% [approval] has always traditionally been a flashing warning sign for an incumbent American president."
The poll was conducted Sept. 9-13 and has a margin of error of plus or minus 3.1 percentage points.
Do you think Biden's approval rating will go higher?
This is just the latest poll that appears to show some improvement for Democrats heading into the midterms.
Democrats started feeling more optimistic about November as gas prices have fallen for three months, they notched some legislative wins over the summer, and Biden announced his plan to cancel up to $20,000 of student loan debt per borrower.
At the same time, Biden essentially disappeared from the headlines for much of August, and the attention shifted to former President Donald Trump's handling of classified documents, abortion restrictions, and Republican election deniers winning their primaries.
Advertisement - story continues below
Those were all topics that distracted attention from the current president's weaknesses and ginned up energy among the Democrats' base. A Reuters/Ipsos poll conducted Sept. 7-12 found that 63% of Democrats are certain they will vote in November, while 65% of Republicans said the same.
Reuters notes that the Supreme Court's decision to overturn Roe v. Wade and concerns about Trump appear to be driving enthusiasm among Democrats.
Some Democrats are feeling so optimistic about November that they are openly suggesting the party might hold onto control of the House and Senate in November, which would buck historical trends. In 17 of the last 19 midterm elections, the party that controls the White House has lost an average of 27 House seats. That would be more than enough for Republicans to flip control of the chamber.
But in one warning sign of how quickly the midterm issues could change, after Florida Gov. Ron DeSantis (R) flew two planes of migrants to Martha's Vineyard, Massachusetts, much of the discussion switched to immigration and the border and away from Trump or abortion.
Advertisement - story continues below
And according to the NBC poll, Republicans hold a 36-point advantage over Democrats on the issue of border security. They also lead in handling the economy and crime.
If Democrats can keep up the energies around Trump, election deniers, and abortion until November, then they probably would have a good shot of keeping the Senate and ensuring that the Republicans only win a slim majority in the House.
But if gas prices start to go back up and inflation does not decrease in the September report — the last report before the midterms — the discussion could flip back to the economy, inflation, and immigration, and Democrats may start to see their August gains evaporate at just the worst time for them.
Truth and Accuracy
We are committed to truth and accuracy in all of our journalism. Read our editorial standards.
Comment Down Below
Conversation