News
Bill Maher Predicts California Residents Are Eventually Going to Say 'F*** It to the Democratic Party'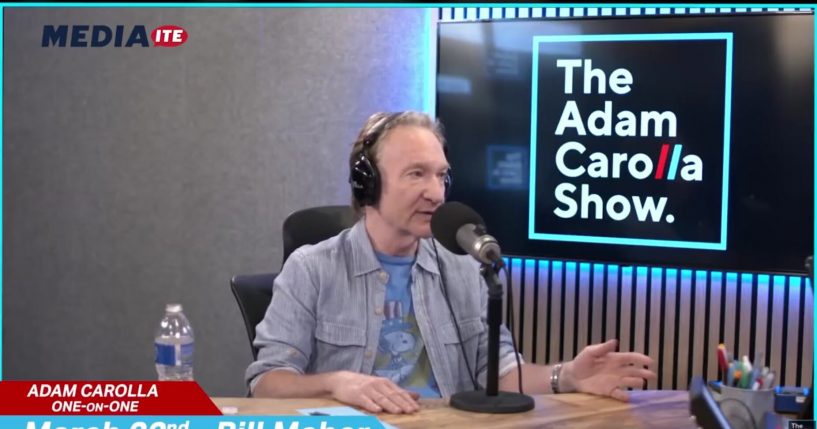 Bill Maher shared why he believes there has been an "exodus" from California, saying the state's residents "can't f***ing do anything."
During an appearance on The Adam Carolla Show, Maher told the host people are leaving California "partly because of high taxes, and it's partly because fire season is all year round."
He added, "It's also because people can't f***ing do anything."
Advertisement - story continues below
Maher suggested that so many people are saying "f*** it" about "so many things out here."
He continued, "Eventually, what they are going to say is 'then f*'* it to the Democratic party'. This is an Achilles heel to this party that they have to come to terms with. I mean, they couldn't build railroad, they tried, from L.A. to San Francisco."
Maher argued there are "just too many people with their hand out. There are too many people who are unnecessary in this equation. This is kind of beyond politics, and it will get hung on, deservedly so, on the Democrats because they run this state."
Watch his comments below:
Advertisement - story continues below
Why has there been an "exodus" from California, according to @billmaher?

"Partly because of high taxes," "partly because fire season is all year round," and "because people can't f*cking do anything." https://t.co/uN7jODfCKK pic.twitter.com/4jC9PGvpYd

— Mediaite (@Mediaite) March 22, 2022
This is not the first time Maher has raised concerns about the "exodus" of California residents. During an interview with Rep. Adam Schiff (D-Calif.), Maher said, "California businesses are leaving the state in droves. In just 2018 and 19, which were economic boom years, 765 commercial facilities left, 13,000 between 2009 and 2016."
The "Real Time" host reflected on his own time in California, explaining, "Look, I came out here in 1983. I found paradise. I love California. I do. I don't want to leave, but I feel like I'm living in Italy in the '70s or something. Super high taxes, potholes in the road, fires. I don't know what I'm getting for my super-high taxes."
Maher asked Schiff what he thinks about that as a California representative.
"Well, I think we have to make every effort to make this a more business-friendly state," Schiff said. "And I don't think that there's anything incompatible with being progressive and also wanting to make sure that this is a place that businesses can survive and thrive."
Advertisement - story continues below
In September 2021, The New York Times noted more California residents are moving to other states than are moving there from other places in the country.
Additionally, The Hill reported last week that California has the highest gas prices in the country. In early March, the average statewide price of a gallon of gas reached $5.44.
Truth and Accuracy
We are committed to truth and accuracy in all of our journalism. Read our editorial standards.
Comment Down Below
Conversation